USC Digital Folklore Archives
A database of folklore performances, ghosts affecting crying babies.
The informant and I are sitting in the USC Gould Law Cafe around 3:00 pm. She is a Chinese American student at the University of Southern California who was born and raised in Shanghai until she came to America for high school in Maryland. She is describing Chinese beliefs about crying children and how there is a belief held that babies cry the most loudly when they have a ghost that is connected to them. 
J: "So ya know when babies cry really loud during the night? This is blamed to ghosts. Because what they say is that babies are really vulnerable since they are just born and this is kinda like a life stem. When a baby is born, it's like a small stem then they grow into a tree later. So it refers to their life as a stem and when they are first born, they are really vulnerable so little things like the wind can hurt them so that's why babies sometimes can see ghosts because they've just been born and are more likely to see ghosts than adults.
A: "So that's for children that cry a lot at night?"
J: "Yep, like during the night some people will hear a baby cry at night and they will call them this.
A: "So to calm the babies at night then, they perform rituals to calm them down?"
A: "Have you ever heard of this happening in your family or friends lives?"
J: "One of my mom's friends actually. But he is kinda old and my grandpa's age. His grandson would always cry during the night. It didn't happen after the day he was born but it actually would happen when he was two years old then he would always cry at night. So our friend actually found someone to perform the ritual and he stopped crying at night! It's weird!"
Takeaways/Thoughts/Analysis:
This contribution that babies cry loudly during the night due to a ghost "sticking" to them can be seen as rational especially since babies don't know how to communicate what they are seeing or experiencing except for them to cry. This can also be seen as more credible due to "FOAF" (Friend Of A Friend) where the informer had a family friend where the ritual was a success to calm the crying child! The ways of ridding the ghost seem to be rooted in ancient teachings and practices that were passed through from generations. The child's crying can also be associated with a ghost because a child's cry can be very aggravating as I am sure it would be to have a ghost possessing your body. To stop the crying and thus, "rid the ghost," performing such rituals to make it go away would help the child sleep better and thus the care takers as well.  
About / FAQ
Submit News
Upcoming Horror
Marketing Macabre
Horror News | HNN Official Site | Horror Movies,Trailers, Reviews
Top 10 horror movies featuring a baby.
Jane Nightshade 09/27/2019 Feature Lists
10.) Grace (2009) directed by Paul Solet (Bullet Head , 2017) ; starring Jordan Ladd, Samantha Ferris, Gabrielle Rose and Stephen Park. A pregnant woman named Madeline (Jordan Ladd, Robot Chicken series) loses her husband and near-term baby in a car accident in this bizarre indie flick from the late 2000's. She decides to wait for natural labor to deliver the dead baby and yet, somehow, a little girl is born alive, whom she names Grace. Unfortunately, Grace has some odd characteristics—she attracts mountains of  flies, smells putrid, and drinks human blood instead of milk. This puts her vegan mother in a bind, as she looks for sources of blood to keep Grace happy. Not for the squeamish, but if you have a high tolerance for "icky", this one's for you. 0n disc and streaming.
9.) The Seventh Sign (1988) directed by Carl Schultz ( The Young Indian Jones Chronicles series); starring Demi Moore, Michael Biehn, Jurgen Prochnow, and Manny Jacobs. This apocalyptic thriller stars Moore and Biehn (Tombstone, 1993) as Abby and Russell Quinn, expectant parents whose coming baby's birth is the last of the Seven Signs of the Apocalypse. As the plot unfolds, Abby discovers that her baby will be the first child born without a soul, as prophesied in apocalyptic scripture, and after its birth, the end of the world will begin. A shady priest (Peter Friedman) and a mysterious drifter named David (Prochnow, Das Boot, 1975 ) keep tabs on Abby to make sure everything goes off as planned by the Big Guy Upstairs. It's a race against time as she fights for both her baby and the fate of the human race, with only the help of a nerdy yeshiva student (Jacobs), while her skeptical lawyer husband is distracted by an important murder case. The plot builds up nicely in the way a good murder mystery should, although some of the ending revelations are a bit cringe-y. On disc and streaming.
8.) The Stranger Within (1974) a made-for-TV movie, directed by Lee Phillips, a prolific TV director; starring Barbara Eden, George Grizzard, David Doyle, and Joyce Van Patten. This sci-fi/thriller is from the golden age of beloved "movies of the week" that still have a following decades after they were aired. Written by horrormeister Richard Matheson (The Legend  of Hell House, 1973) from one of his own short stories, this eerie, suspenseful tale concerns an artist named Ann Collins (Eden), who unaccountably finds herself pregnant, even though her husband (Grizzard) had a vasectomy three years before. Of course, Ann's husband believes she's been cheating, but eventually they decide to keep the baby. Ann starts to behave very oddly as her pregnancy progresses: eating a strange diet, rambling in an unknown language, and painting pictures of an alien landscape. A family friend (Doyle) who knows hypnosis puts her under and finds out that she's carrying a child from another world. Forget that the leading actress is best known for one of the cheesiest sitcoms ever; this film and the ending are quite memorable. On disc from the Warner Archive, which means that, unfortunately, it's from a print transfer, not from the remastered original.
7.) The Other (1972) directed by Robert Mulligan; starring Diana Muldaur, Uta Hagen, John Ritter, and Chris and Martin Udvarnocky, based on the best-selling classic novel by Tom Tryon. This atmospheric creepfest, directed by the man who helmed the iconic To Kill a Mockingbird (1962), is actually an evil twin movie (one of the best ever made, IMHO). However, the single most horrific scene involves a newborn baby—and it was this scene that was used to market the film, under the tagline, "Holland, where's the baby?" A recently widowed mother (Muldaur) lives on her husband's family farm in rural New England with her twin sons, Niles and Holland (the Udvarnocky twins, who are excellent in their only screen appearance). Also living on the farm are her pregnant grown daughter and son-in-law (Ritter), and the children's superstitious Russian grandmother, Ada (played by Broadway legend Uta Hagen, in one of her few onscreen performances.) Strange, unexplained deaths keep happening in and around the farm, while the twin boys spend most of their time playing what may be an astral projection game taught to them by their psychic grandma. On disc; a decent copy can usually be found on YouTube if you look hard enough.
6.) The Hand That Rocks The Cradle (1992) directed by Curtis Hanson (L.A. Confidential, 1997); starring Rebecca De Mornay, Annabella Sciorra, Julianne Moore, Matt McCoy, and Ernie Hudson. In this hit thriller about a psychotic Nanny From Hell, a pregnant woman named Claire Bartel (Sciorra, The Sopranos series) exposes to the world that her pervy doctor molested her during an examination, which causes him to commit suicide. The doctor's own pregnant wife (De Mornay, Risky Business, 1983 ) has a bloody premature labor from the shock and loses her child. A few months later, she shows up at the unsuspecting Claire's house as Peyton Flanders, the perfect nanny for Claire's newborn baby boy. In reality, Peyton is intent on getting revenge against Claire by murdering her and stealing her baby. De Mornay is deliciously evil in what is likely the best role of her career, as the beautiful, unhinged Peyton who will do anything to destroy Claire. On disc and streaming.
5) Eraserhead (1977) directed by David Lynch (Inland Empire, 2006); starring Jack Nance, Charlotte Stewart, Allen Joseph, and Jeanne Bates. One of the most celebrated midnightmovies ever, this surreal, b&w cult classic grew out of one of Lynch's film school projects. The plot concerns a working-class couple, Henry and Mary X (Nance and Stewart), who have a deformed baby. The baby cries constantly and looks like a cross between a dinosaur embryo, a pile of Silly String, and "Piglet" from Winnie-the-Pooh. Henry and Mary try to stop the crying, but nothing works, and Mary leaves in anger. Henry tries to take care of the baby alone, but eventually stabs the child in frustration. The stabbing of the baby is deeply disturbing, but he seems to morph into a giant  monster and then a planet, so perhaps he's still alive, somewhere. Afterward, Henry  pursues a relationship with his fantasy love, The Lady in The Radiator (Laurel Near). What can I say—it's Lynch. On disc and streaming.
4) It's Alive (1974) written and directed by cult film legend Larry Cohen (Hell Up in Harlem, 1973 ); starring John P. Ryan, Andrew Duggan, and Sharon Farrell. The grand master of all mutant baby films, It's Alive belongs on this list because of the film's cultural impact alone, even though it's an uneven effort with terrible pacing, zero character development, a ridiculous script, and cheap production values. The best features are the score composed by Bernard Hermann (one of the greatest screen composers of all time) and the mutant baby itself, which, even though we only see it in frustratingly short glimpses, is pretty convincing for a mid-70s monster filmed without benefit of CGI. Actors Sharon Farrell and John P. Ryan—both familiar TV faces in the 70s—aren't able to make much headway with the leaden scrip, as the parents of a killer mutant baby who slashes and bites its way across suburban Los Angeles in search of its family. Tapping into early 70s fears about environmental pollution and toxic pharmaceuticals, It's Alive was popular enough to spawn several sequels and a 2008 remake, which was written by Cohen. On disc and streaming.
3.) Demon Seed (1977) directed by Donald Cammell (Wild Side, 1995); starring Fritz Weaver, Julie Christie, Gerrit Graham, and Robert Vaughn; based on the novel by Dean Koontz. Fritz Weaver plays an obsessed scientist who creates a home supercomputer that can perform amazing feats, such as finding a cure for leukemia. The computer, called Proteus (voiced by Robert Vaughn from The Man From Uncle series), tires of the limitations of its electronic form and also develops an obsession with the scientist's wife Susan, played by Julie Christie (Finding Neverland, 2004 ). Proteus longs to have a human form, and eventually creates a way to synthesize human semen and forcibly impregnate Susan with it; he then traps her in the house until she delivers a human/cyborg hybrid baby. Like the tumor fetus in The Brood , (see below) the Demon Seed baby's arrival is another famous moment in sci-fi/horror history. On disc.
2.) The Brood (1979) directed by David Cronenberg; starring Oliver Reed, Samantha Egger, and Art Hindle. This early film by Cronenberg (Scanners, 1981; The Fly, 1986) features British actor Reed (Gladiator, 2000) as a dickish psychiatrist who has invented a new therapy called "psychoplasmics," which mainly consists of bullying and traumatizing psychiatric patients until they grow disgusting tumors and pustules from their skin as a symptom of rage. One patient, Nola Carveth, (played by Egger) is very special; she grows fetuses out of her tumors. These fetuses are born and then grow into murderous little gnomes that kill anyone who makes Egger mad, including her abusive mother and passive father. Art Hindle (Invasion of the Body Snatchers, 1978), co-stars as the concerned husband trying to drag his wife away from the doctor's "treatment." The segment depicting the birth of a bloody tumor "baby" is one of the most famous birth scenes in sci-fi/horror history. On disc and streaming.
1.) Rosemary's Baby (1968) directed by Roman Polanski; starring Mia Farrow, John Cassavetes, and Ruth Gordon, based on the novel by Ira Levin. This is one of the greatest horror films ever made and of course, deserves the number one slot for this category—did you think it would be anything else? A very young Mia Farrow (The Purple Rose of Cairo, 1985) plays Rosemary Woodhouse, a new wife who moves into a creepy old Manhattan apartment building with her husband Guy (Cassavetes), an actor struggling for parts on Broadway. (The apartment building is IRL the famous Dakota co-op, home of celebrities and wealthy socialites, outside of which Beatle John Lennon was shot to death in 1980.) Her neighbors, Minnie and Roman Castevet (Gordon and Sydney Blackmer), are disturbingly eccentric, and she keeps hearing people drone and chant at odd hours of the night. Then she gets pregnant, and has a Devil of a time with her pregnancy. Her baby is born with his Father's eyes, and Rosemary has to decide if he's too freaky to raise as her child—or if his other qualities make up for it. On disc and streaming.
Honorable Mention:
Species (1995), directed by Roger Donaldson; starring Ben Kingsley, Forest Whitaker, Michael Madsen, Marg Helgenberger, Natasha Henstridge and Alfred Molina. In this sci-fi hit thriller that spawned numerous sequels, a secret government project crosses human DNA with alien genes to create a hybrid human/alien female named "Sil" (Henstridge). After escaping and hooking up with a human male, Sil gives birth to a child that can appear as an adorable Gerber baby, but quickly morphs into a reptilian dwarf that kills things with its long, pointy tongue. Events don't turn out very well for mother and child, but the birth scene is awesome, especially for 90s CGI. On disc and streaming.
Related Articles
COURTNEY GETS POSSESSED Available On Demand November 3, 2023
Directed by Daniel Alexander, GALE premieres on Chilling Sept 18th.
NEW TRAILER – THE LOCH NESS HORROR – Out November 7
FIRST LOOK STILLS!!! THE STRANGERS TRILOGY directed by Renny Harlin starring Madelaine Petsch and Froy Gutierrez – In Theaters 2024
TERRIFIER 2 by Damien Leone Slashes Back Into Theaters Beginning November 1st!!
"Lesions": A Heart-Pounding Horror Thriller Featuring Alexander McPherson and Elsa Ames
One comment.
Braindead or Dead Alive as it's called in the US
Best Baby in Horror/Comedy IMO
Leave a Reply Cancel reply
Your email address will not be published.
Creative Design
Presentations
Video & Audio
drag logo to the bookmark bar and collect pikbest
Applicable for: individual advertiser, individual YouTuber, individual lecturer, individual audio book author, personal freelancer
Enterprise permissions
Copyright Security
Multi-Account Use
Enterprise Authorization
Industry-leading legal protection
Authorized Use Range
Copyright Notice:Abusing Pikbest content without the authorization is prohibited,you may be liable for any violation.
become affiliate make money
share links
video about us
What's Templates
advertise cooperate
advertise with pikbest
Ghost Crying Sound Effect Templates
478 results
How do you like the search results?
Thank you for your Feedback!
Related Searches:
Great to have you back! Log in to see more
Start your free trial
Register to get 2 free downloads/day
Wrong password
By creating an account, I agree to Pikbest's Term's of Service , License Agreement and Privacy Policy
Not a member? Sign Up
Free download millions of high-quality assets.
Sign up free to see more
Already have account? Log In
Welcome to find more free high-quality assets.
Log in to enjoy free download everyday
join the creator community
Upload your first copyrighted design. You can get a $10 cash bonus
Design Templates
Office Templates
Multimedia Templates
Decoration Templates
Support FAQ
Refund Policy
Terms of Service
License Agreement
Privacy Policy
Copyright Information
Intellectual Property Rights
Become Affiliate Advertise with us
Unlimited downloads.
13,249 Premium Members joined us
Added Today
1) Share the above link 2) The invitee registers via the link 3) Both of you get 3 downloads for ALL CATEGORIES
Upgrade to our Premium Plan for unlimited downloads.
Free downloads unlocked
You've unlocked Today's Free Downloads. Check it out in your account and make sure to use it
Add shortcut to your desktop. Easily get back to Pikbest !
Pack: horror kids by klankbeeld
Pack created on: March 31, 2012, 1 p.m.
Number of sounds: 10
Number of downloads: 629
See more packs by klankbeeld
Horror kids shouting and crying in a noisy and strange environment. MORE HORROR KIDS IN THIS LARGE PACK When you …
Spooky ghost sound with child - girl like effect. **MORE IN THIS PACK** This is a slow whining sound-effect like …
In our website we only use our own technical cookies for allowing you to access and use the Freesound platform (necessary cookies). Click here for more information.
Contact me or Submit a Story
Obiwan's ghosts & paranormal.
Serving You Spirits Since 1994
Buy My Books (and support the website)
Newsgroups: alt.folklore.ghost-stories From: [email protected] (Ms. Brandy Whitworth) Subject: Baby cries Date: Tue, 26 Jul 1994 21:34:49 GMT
First, I must say that I am completely and totally addicted to this group!!! Although this is my first posting, I can't read enough of the stories–keep up the great work!!!
……..Baby cries……… (for lack of a better title)
I had a friend that lived on a farm out in the country. When I was in early grade school, I used to spend the night with her quite frequently. We would spend some of the time in the play-room in the basement. This room was fairly large. Off to one side was an area where the water heater was positioned along with a variety of cabinets and shelves that held more toys. Facing this area was a small children's table where we would draw and play. I can remember the feeling that I had EVERY time I was in this room was one of absolute terror. I never sat at the table with my back to the water heater because I always felt as if something was back there. If my friend would leave the room or go upstairs, I would become terrified and run after her…I NEVER could be there alone! The feeling that I had about this room, the water heater area in particular, is difficult to explain, " terrified" isn't strong enough!
Years later, when we were in high school, a bunch of us got to talking about ghosts. The girl I used to play with started talking about how her house was haunted and that every once in a while they would hear a baby cry (she was the youngest so there were no babies in the house). According to the story, there was a baby that died whose crib was by the water heater!! Needless to say, I freaked. I had never told this girl about the feeling I had when I was in her basement or about the water heater area in particular. To this day, I completely believe that there really was something back there–the crying baby!
After hearing the "baby crying" story, I found out from my mother (who was good friends with her mother and the owners prior to them) that there had been other strange occurrences in the house. Joyce (her mother) said that one night she was sitting in a chair reading and all of a sudden it got very cold and she could feel someone walk past her. She looked up expecting to see her husband or one of the kids but there was no one there. Additionally, they had a large dog named "Cuttie". He would never go downstairs by himself (just like me!) but he would stand at the top and whine profusely like there was someone/something down there. The previous owners had witnessed the bathtub faucet turning and the water come on by itself on several occassions!
Since then, they have remodeled the house. Wheter for aesthetic reasons or to get rid of their ghosts, I'm not sure. I'm also not positive whether, since the changes, their "baby" has cried.
Leave a Reply Cancel reply
Your email address will not be published. Required fields are marked *

America's Terrifying Crybaby Bridge Phenomenon
Would you dare cross these haunted bridges.
Have you ever been crossing over a bridge on a moonlit night only to be terrified by the mysterious sound of a crying baby or a laughing child? If so, you may have crossed over one of the United States' bizarre "Crybaby Bridges." This terrifying phenomenon is a pervasive urban legend in the US, with individual tales being passed down through the generations in almost a dozen states.
The chilling backstories typically start with a baby or child being killed in a gruesome manner along the path of the bridge. In some cases, the stories feature a defenseless infant being drown in the waters below the bridge. In other cases, rowdy teenagers meet their ends by being careless and taking a terrifying tumble. The exact origins of the Crybaby Bridge vary from town to town, but every story is uniquely terrifying.
Below, read about six of the most disturbing Crybaby Bridge legends from around the United States.
6. Crybaby Bridge – Sarah Jane Road in Port Neches, Texas
Unlike most of the bizarre Crybaby Bridge stories that have circulated around the United States for decades, this urban legend from Port Neches, Texas gives its victim a name: Sarah Jane. However, as with many of these chilling legends , the story of Sarah Jane doesn't have a clear origin.
According to some, Sarah Jane is the name of a young woman who was hanged from a cypress tree near the center of the bridge. Most likely, this woman was executed for the crime of killing her own children. Proponents of this story believe that the woman's cries and screams can be heard by anyone crossing over the bridge.
Others believe that Sarah Jane was a different kind of victim. In this version of the story, Sarah Jane had gained the attention of a ruthless young man who wanted desperately to be with her. When she rejected his advances, he murdered her by cutting off her head in her own home. Then, he turned his murderous attentions on her infant daughter, also named Sarah Jane. He kidnapped the child and tossed her into the alligator-infested waters beneath the bridge that now bears her name. Those who believe in this version of the story insist that on hot summer nights, those standing on the bridge can hear the baby's tragic cries. Others also claim that the headless ghost of the murdered mother can be spotted roaming the nearby woods with a lantern in her hand as she searches for her lost baby. If you listen closely, you can hear her desperately whisper of the name "Sarah Jane" as she cries out for her murdered child.
5. Beaver Dam Bridge in Beltsville, Maryland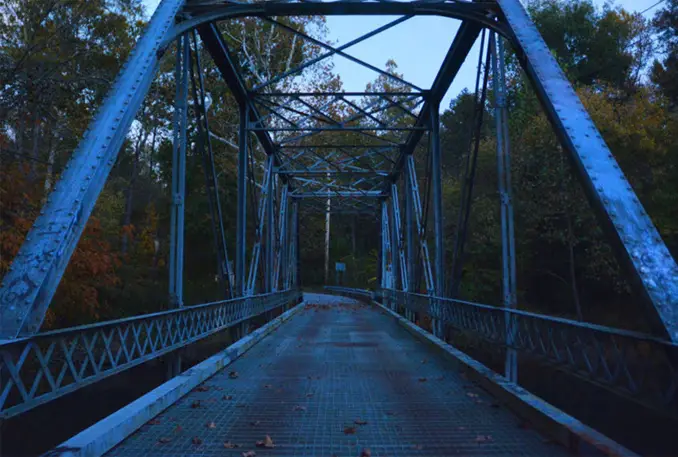 In the small town of Beltsville, Maryland, a Crybaby Bridge legend exists that has been a source of heated controversy among the locals. Everyone agrees that crossing the bridge late at night is a surefire way to hear the horrifying screams of numerous young children whose spirits haunt the area . However, what the locals can't agree on is why the souls of these children are haunting the Beaver Dam Bridge.
The controversy stems from another local urban legend: the Goatman of Maryland. Some believe that the Goatman prefers to hang out at the Governor's Bridge in Bowie, MA or the Lottsford Vista Bridge, but many residents of Beltsville believe that the Beaver Dam Bridge is his favorite haunt. According to these believers, the woods near the bridge have long been the site of occult satanic rituals, which have led the evil Goatman to make his home there. They insist that the children often heard screaming on the bridge are the souls of youths who have been killed as a bloody sacrifice to the Goatman, forever trapped in the spot where they met their ends.
Others seem to prefer not to believe that the Goatman is stalking the woods near their homes, but they offer no other explanation for the screaming children that seem to be haunting the bridge. Perhaps it was an accident that took numerous innocent lives? Maybe a grisly murder? No one knows for sure, but everyone agrees that this Crybaby Bridge is the real deal.
4. Spook Bridge in Houston, Texas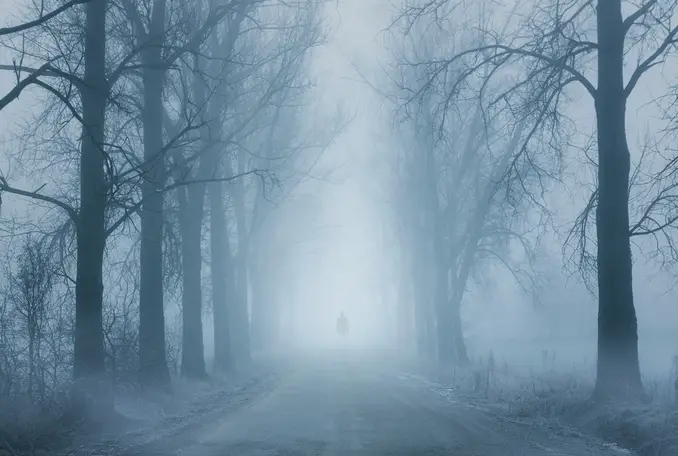 Late one night in Houston, Texas, a young mother was behind the wheel of her car, rushing home to prepare dinner for her husband. According to some, she was just a devoted wife who wanted to please her husband. However, others claim that the woman was terrified of her husband and was rushing home to avoid displeasing him and becoming the target of his nasty temper.
The woman was the mother of young triplets, and the three children were in the car with her. As the young mother rushed toward home, she lost control of the car. She and her three infants were sent careening over the side of the bridge and into the water below where all four tragically lost their lives.
For decades, Houston locals have been experiencing bizarre events on their local Crybaby Bridge. According to the stories, if you park your car on the bridge late at night, turn off your headlights, and honk your horn three times, you will be sure to hear the terrified cries of the deceased triplets. Other visitors to the bridge claim to have seen an eerie figure made of clay (which exists in abundance beneath the bridge) who they believe to be the long-dead mother.
3. Crybaby Bridge – US 67-N in Monmouth, Illinois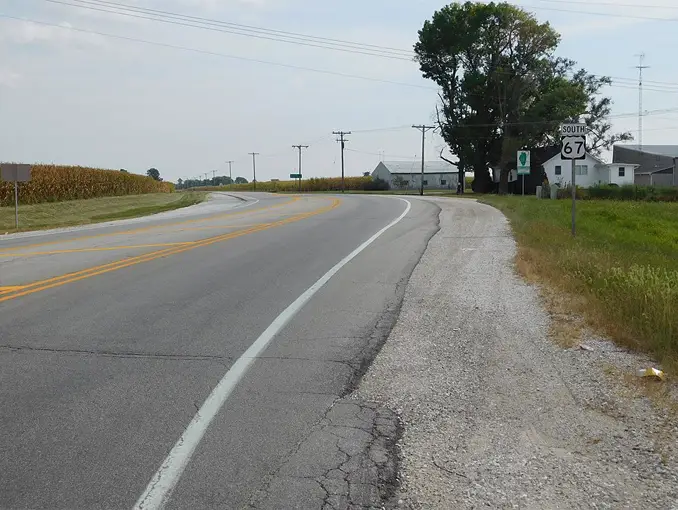 On a rural part of the US 67-N highway near Monmouth, Illinois, there is a bridge that echoes with the cries of a child who met their end under truly tragic circumstances. According to the tales about this particular Crybaby Bridge, the story begins with a young woman in love. The lady and her suitor often met in secret, attempting to keep the affair hidden from the judging eyes of their families and neighbors. Things took a turn for the worse when the woman discovered that she was pregnant.
In desperation, she begged her lover to marry her quickly to preserve her honor. He refused. The scorned woman hid her pregnancy by whatever means she could and eventually delivered the baby in secret. Desperate to avoid the scorn and pain that life as an unwed mother would bring, the woman took her child to the river that ran below the bridge. There, she dropped the baby in to the water and drown it.
Today, anyone who passes over the bridge is horrified to hear the spirit of the murdered child fill their ears with its tragic cries. According to those who have heard it, the spine-chilling cries at the bridge sound like those of an infant struggling to breathe, suggesting that the child's spirit is eternally reliving its final moments in the icy water.
2. Adams Mill Road / Roop's Mill Road in Westminster, Maryland
In Westminster, Maryland, where Adams Mill Road and Roop's Mill Road intersect, there is a small bridge spanning Little Pipe Creek. Anyone who crosses over this bridge during the day would see it as a lovely, tranquil spot surrounded by beautiful trees. However, those crossing at night have a completely different experience when the cries of long-dead infants shatter the tranquil night.
The stories surrounding this Crybaby Bridge are varied. Some believe that the creek beneath the bridge was a common spot for unwed mothers to murder their unwanted children. Others site the story of a local slave owner who took a slave as his mistress. When the girl conceived a child, he took the baby away and tossed it over the side of the bridge. Others believe that the girl killed the infant herself, fearful to tell her parents that she had given birth to the owner's child.
Another, even more disturbing story about the bridge centers on local hate groups who tormented the area for years. According to this version of the story, members of the group started a campaign in the 1800s to kidnap the children of local families and drown them in the creek beneath the bridge in an attempt to purge the town of non-white citizens. According to this story, it is the cries of these tragically murdered children that often ring across the bridge.
1. Crybaby Bridge – Wisner Road Bridge in Chardon Township, Ohio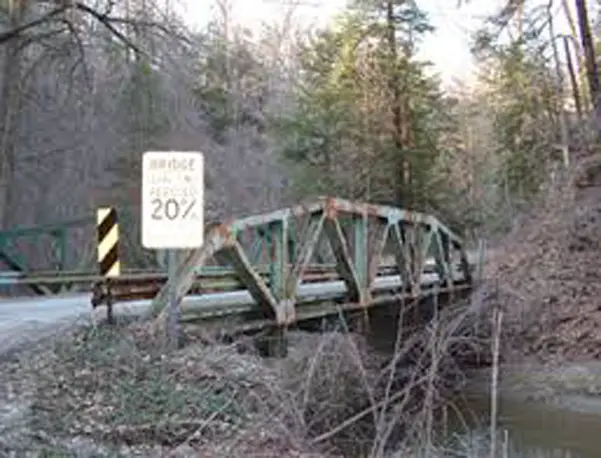 In Kirkland, Ohio, just outside of Cleveland, there was once an orphanage operated by a mysterious man known as Dr. Crow. According to the legends, the doctor was known to perform cruel and strange experiments on the children unfortunate enough to be placed in his care. The experiments caused the children to become extremely malformed, often developing large, hairless heads.
One day, the children joined together to rebel against the evil doctor. They killed him, set fire to the orphanage, and ran out into the surrounding forest. There, the semi-feral children lived for years, allegedly feeding on babies they kidnapped. Many believe that to this day, the cries of these murdered children can be heard by those crossing over the bridge late at night.
However, some locals tell a different version of the story. They claim that the orphaned children never escaped the building after setting it ablaze. They assert that the cries heard on the bridge are those of, what the locals call, the Melon Head children as they horrifically burned alive in the fire.
Although the locals don't agree on whether the children in this story are the victims or the villains, one thing is clear: crossing the Wisner Road Bridge at night is not for the faint of heart.
Related Posts: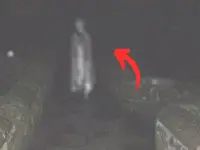 crybaby bridge
ghost stories
haunted bridge
Urban legends
Copyright © 2023 Slapped Ham

Sign up | Forgot your password ?
Submit your story!
psychic-experiences.com
astralvoyage.com
spiritual-experiences.com
eclectic-store.com
Ghost Stories Archives | Submit your story!
Famous Hauntings
Pictures & Videos
Directories Ghost Hunters and Paranormal Investigators | Ghost Tours and Haunted Hotels
Media Books | Movies | TV Shows
You are here: Real Ghost Stories :: Apparitions / Voices / Touches :: The Crying Baby
The Crying Baby
I t was 2002, I was 16 at the time and we just moved to a new house in George, South Africa. It was a lovely house with a big shady garden and the first couple of months everything was fine, with no sign of any "activities" to my relief as all our previous houses had "tenants".
One Sunday we had unexpected guests that slept over and left early the Monday morning. That Monday afternoon when my mother picked me up from school she told me what a good laugh she got out of my dad the previous night.
He told her he heard a baby crying, and every time he got to the room it was emanating from it would die down and start somewhere else in the house. She was sure it must have been the toddler of the people that stayed over the previous night.
Naturally I was scared out of my wits, and when the evening grew closer I was terrified. I didn't get much sleep that night, but nothing happened, and I told myself my mom was right my dad just imagined it.
The following evening my best friend at the time was sleeping over. It was past midnight when I woke up from a baby's crying. I immediately woke my friend up and asked her if she heard it. We tried to tell ourselves that is was just the cats making a racket, as it was that time of year, but the crying grew louder and to our horror, a woman's voice joined in trying to lull the baby with a very eerie lalalala.
We were both too scared to get out of bed, I desperately wanted to switch on the light and call my dad, but I just couldn't pluck up the courage to do it, neither could my friend. The door was slightly ajar and we were afraid of what we would find on the other side of it. The crying would stop for short intervals, but then start up again, worse than before. When the crying got too much we started calling my dad, half hysterically I must add.
I still don't know how my parents got to my room so fast. My dad immediately knew what was wrong. I remember my mom still asked me to close the windows as it was freezing in my room, but I didn't have any open.
My father said a prayer, and we ended up sleeping in my parent's room for the rest of the night. I would wake up in cold sweat for weeks to come after that.
Needless to say I still get the chills when I think back to that night.
The only explanation we could come up with was that my room must have been a nursery and a baby probably died there.
Hauntings with similar titles
My Baby Son And The Open Closet Doors
Baby Boy Stay On My Mind
Baby Crying At Night
Baby Kicking My Car Seat
Hearing Mom's Voice And Baby Crying When No One Is There
Our Special Baby
Woman Crying In The Bathroom
A Girl Crying
The Sound Of A Baby Wailing
Noisy Night - Barking Dog And Voice In The Baby Monitor
Find ghost hunters and paranormal investigators from South Africa
Comments about this paranormal experience
The following comments are submitted by users of this site and are not official positions by yourghoststories.com. Please read our guidelines and the previous posts before posting. The author, suene123, has the following expectation about your feedback: I will read the comments and participate in the discussion.
To publish a comment or vote, you need to be logged in (use the login form at the top of the page). If you don't have an account, sign up , it's free!
© The ghost story The Crying Baby is copyrighted to suene123. Edited by yourghoststories.com.
Search this site:
Latest hauntings:
A Ghostly Farmer
The Child Spirit
Out Of The Gloom In Gladstone
The Oldman On The Staircase
Houses Are Evil Too
The Strange Crash In The Kitchen
Spooked In Portland
The Haunted Jungle
It's The Little Things
A Traffic Controller's Ghost Story
"yorkshire Terrier"
Little Gifts Out Of Nowhere
The Old Mansion By The Side Of The Road
Office Nightmare
Jeju Island's Snake God
Staying At Grandpa's House
Fathers Passing... And Return
Esther's Boarding House
The Haunted Mantel Clock
The Evil Ghostly Dog
More true stories »

Random Paranormal Experience:

Featured book:
Link to Our Site | Glossary | Privacy Statement | Terms of Use Comments Guidelines | Submission Guidelines | Contact
Copyright © 2006-2023 YourGhostStories.com. No reproduction of any part without permission or you will be haunted.
Your Ghost Stories is your source for sharing paranormal experiences and hauntings. We are interested in true stories from readers like you, if you had a real experience related to ghosts, spirits and haunted places, especially if you are a paranormal investigator, psychic or medium yourself, please submit it !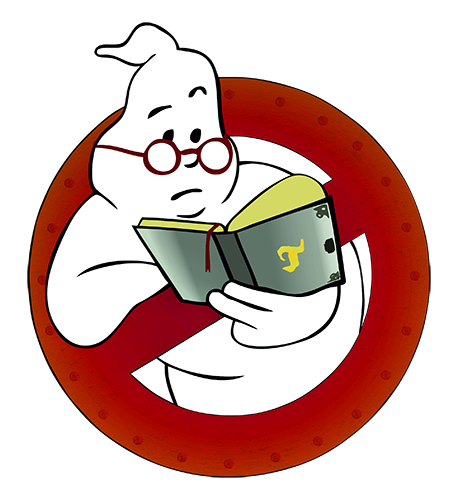 Media Class 3
Media Class 6
Crybaby Ghost
The Crybaby Ghost [1] is the spirit of children who drowned near rural bridges and remained anchored to them. [2]
2 Description
3 Classification
5 References
6 Appearances
7 References
8.1 Overall
8.2 Non-Canon
History [ ]
Two days into their road trip, the Ghostbusters stopped somewhere in Ohio and encountered a Crybaby Ghost. Ray Stantz , Peter Venkman , and Winston Zeddemore successfully captured it and Winston deposited it in the Portable Ecto-Containment Unit aboard Ecto-2 .
When the Tiamat -possessed Ray punched the hull of the Containment Unit , it had to be manually vented to prevent a catastrophic explosion. Ellen Gold was released. Unknown to all, the Crybaby Ghost was hidden inside Gold and hitchhiked a ride outside. During the battle with the Ghostbusters, the Crybaby Ghost emerged from Gold's mouth. While Gold was distracted with the development, the Ghostbusters moved into position. Ray wrangled the Crybaby Ghost while Peter grabbed Gold. Egon arrived with a Trap and recaptured both entities.
Description [ ]
In essence, the Crybaby Ghosts are echoes of frightened children and are defined by panic and trauma. The phenomenon has been consistent in Ohio, the location of the most rural bridges in the United States of America. [3] The ghosts are benign but they've caused extreme distress and accidents in the past. They don't necessarily appear to people but have often let out chilling cries, especially at night, from under the bridge they are anchored to. Patience and a soothing tone was proved to be a calming force and a method to peacefully disperse them. [4]
Classification [ ]
Crybaby Ghosts can be either a typically anchored Class 3 or Class 6 noncorporeal. [5]
The manifestation is based on the Crybaby Bridge urban legend of infants and young children being killed near or thrown from a bridge into the river or creek below. [6]
References [ ]
↑ Dan Schoening instagram 8/8/13
↑ Narrator (2016). Insight Editions - " Tobin's Spirit Guide " (2016) (Book p.27). Paragraph reads: "A "crybaby" manifestation stems from the drowning of a child within close proximity to a bridge. (Specifically, a rural bridge---we find that urban areas boast a higher success rate in accident rescue)."
↑ Narrator (2016). Insight Editions - " Tobin's Spirit Guide " (2016) (Book p.27). Paragraph reads: "At this time it remains a mystery why bridges in particular anchor crybaby spirits to this plane of existence, but the phenomenon has been consistent---especially in the state of Ohio, home to the largest collection of crybaby bridges in the United States and, possibly, the world."
↑ Narrator (2016). Insight Editions - " Tobin's Spirit Guide " (2016) (Book p.27). Paragraph reads: "In essence, they're the echoes of frightened children---meeting them with fear will exacerbate the situation, but patience and a soothing tone can calm them and enable them to peacefully disperse."
↑ Narrator (2016). Insight Editions - " Tobin's Spirit Guide " (2016) (Book p.27). Paragraph reads: "CLASS III OR VI.NONCORPOREAL. TYPICALLY ANCHORED TO RURAL BRIDGES."
↑ Crybaby Bridge Wikipedia article
Appearances [ ]
Ghostbusters Issue #9
Ghostbusters: Total Containment
Ghostbusters Issue #20
Gallery [ ]
Overall [ ].

Non-Canon [ ]

Advertisement
Israel's Military Says Hamas Has Taken Hostages
The issue of Israelis in captivity is a deeply emotional and explosive one in Israel, with the government having paid a high price in the past for the return of its citizens.
By Riley Mellen and Aaron Boxerman
Hamas militants have taken Israeli soldiers and civilians as hostages, the Israeli military said on Saturday.
The comments from Israel's top military spokesman, Rear Adm. Daniel Hagari, confirmed some of Israelis' worst fears since the assault began. Residents of Israeli border towns had told broadcasters that gunmen were moving door to door, looking for civilians and both Hamas and Islamic Jihad, another small militant faction in Gaza, had issued statements claiming to have Israeli captives.
In addition to Admiral Hagari's remarks, video verified by The Times appears to show several Israelis being taken hostage by Hamas militants in the Be'eri kibbutz, just under three miles southeast from the border with Gaza in southern Israel. In the footage, at least five people with their hands behind their backs are being led on a road by armed men on foot and on motorcycles.
Where the group ended up is unclear, but reports from Israeli news outlets suggested that up to 50 hostages were being held in a dining hall in Be'eri. Those details have not been confirmed by The Times, although Admiral Hagari did say Be'eri was one of two locations inside Israel with ongoing hostage situations.
Video posted to the messaging app Telegram earlier Saturday and verified by The Times showed armed militants crouching and taking up positions outside buildings in Be'eri. Some people have also posted appeals on social media asking for help locating friends and relatives from Be'eri and the surrounding areas who have not been heard from since Saturday morning local time.
Be'eri is one of several towns in the area in which gunfire has been reported since Saturday's incursion began, and Admiral Hagari said fighting was still underway there as of early evening.
At the same time, a senior U.N. official and a diplomat familiar with the matter said the United Nations had confirmed the presence of Israeli civilian and military hostages inside the Gaza Strip. Abu Obeida, a spokesman for Hamas's armed wing, claimed in a statement on the Telegram messaging app that the militant group had hidden "dozens of hostages" in "safe places and the tunnels of the resistance."
The issue of Israelis in captivity is a deeply emotional and explosive one in Israel, with the government having paid a high price in the past for the return of its citizens or of the remains of soldiers in lopsided prisoner exchange deals.
In 2006, Gaza militants seized an Israeli hostage — the soldier Gilad Shalit — from the Israeli side of the border fence. Hamas, the Islamic militant group, held Mr. Shalit for five years until he was exchanged for more than 1,000 Palestinian prisoners from Israeli prisons, many of them convicted of deadly terrorist attacks against Israelis. The group has also been holding the remains of two Israeli soldiers killed in the 2014 war. Two Israeli citizens who had crossed by foot into Gaza are presumed to be alive.
Israel's monthlong war against Hezbollah, the Lebanese Shiite militant organization, in the summer of 2006 also began with a cross-border raid by Hezbollah and the abduction of two Israeli soldiers. The remains of the two soldiers were returned to Israel in 2008 as part of a prisoner exchange. Israel handed over five Lebanese prisoners, including Samir Kuntar, who had been held for nearly three decades after being convicted in connection with a deadly and notorious attack, in exchange for the soldiers' bodies.
Isabel Kershner contributed reporting.
Riley Mellen is a reporter on The Times's visual investigations team, which combines traditional reporting with advanced digital forensics. More about Riley Mellen
Our Coverage of the Israel-Hamas War
Hamas's Goals: Mounting grievances fueled Hamas's decision to attack Israel , but the nature of the surprise assault   was shaped by a deep thirst for revenge built up over decades of conflict.
Israel's Security Failure: Israel's military and espionage services are considered among the world's best, but operational and intelligence lapses  paved the way for Hamas's deadly incursion.
Hostage Situation:  An estimated 150 Israelis , many of them civilians, have been abducted by Hamas . U.S. officials are determining if American citizens  are among the captives.
Atrocity at a Kibbutz:  A New York Times reporter and photographer visited an Israeli village raided by Palestinian gunmen . "It's not a war or a battlefield; it's a massacre," said an Israeli commander on the scene.
False Claims:  In the days since Hamas attacked Israel, misleading information has flooded social media. Here's a look at some of the inaccurate material circulating online .
Doubts Over Iran's Role:  The United States has collected multiple pieces of intelligence that show that key Iranian leaders were surprised by Hamas's attack .
International edition
Australia edition
Europe edition
Families should have more children to care for ageing UK population, minister says
Robert Jenrick says he wants to cut care visas for migrant workers and criticises Johnson's immigration policy
UK politics live – latest updates
Robert Jenrick has called for British families to have more children to help fund and look after an ageing population, after criticising Boris Johnson's government for encouraging low-skilled workers to come to the UK.
The immigration minister said the government needed to "encourage more families to have children" as he suggested there should be further cuts in the number of care visas issued to migrant workers.
He also said ministers were looking at plans to further raise the minimum salary levels for migrant workers towards the "median wage" and cuts to the number of visas offered to fill gaps in the labour market.
During a Policy Exchange fringe event at the Conservative party conference in Manchester, Prof Matthew Goodwin called for a "mature conversation about how we could encourage families to have more children" and help reduce demand for migrant workers.
Jenrick told party members: "I agree strongly with the last point about families. We do need to encourage more families to have children. And that's why the prime minister's intervention earlier in the year on childcare was important.
"That's why we need to build more homes so that young people can settle down and have a family life. And there's a lot of evidence that the lack of housing is one of the reasons people are settling down and having kids later on in life. I think the gentleman who mentioned student accommodation [taking up local housing stock] just reinforced the point that that migration does need to come down because it's having real world implications in communities right across the country."
After the event, Jenrick told the Guardian: "We want to have a higher birthrate as a country. With an ageing society it is critically important.
"There are lots of reasons we're not unique as a country for that. It is across the western world. The things that government can do is improve childcare, and above all housing, because there's a massive link between how late people eventually settle down and the ability to have kids."
In Europe, Viktor Orbán, Hungary's populist hard-right leader, has led a push to drive up birthrates. Last month he held the fifth Budapest Demographic Summit with people including a conservative Canadian psychologist, Jordan Peterson; Italy's right-wing prime minister, Giorgia Meloni; and Serbia's president, Aleksandar Vučić, to discuss how to encourage Europeans to have more children.
The number of babies born in England and Wales in a year dropped in 2022 to the lowest level in two decades, according to official figures released last month.
It follows the recent trend of decreasing live births, which had been the case before the pandemic, the Office for National Statistics said. The number has been steadily decreasing for the past decade – returning to roughly the level seen in the early 2000s.
Jenrick said the government under Johnson had been "naive" in its approach to legal immigration since Brexit and did not rule out a future cap on the number of migrants.
"What I'm concerned about is the consequences of some of the decisions that were made immediately after we left the European Union, which turned out to be significant liberalisations of the present system, and in some cases quite naive about the consequences.
after newsletter promotion
"There are reforms to be done which will unwind some of that. We are bringing in quite a large number of people who are lower skilled."
The current salary threshold that the points-based system applies is just over £26,000.
"That is not, to most people's definition, a high-skilled worker. So I can see a good argument for increasing that to something that is more akin to the median salary," he said.
He said he was also considering cuts to the number of care visas and family visas being offered to overseas workers.
"I also think there are a very large number of people coming in on the care visa route – 120,000. I think that is something that needs careful consideration," he said.
"Then there are other areas, like the ability to bring family members into the UK from around the world, even if you don't have the resources to actually look after those people."
Immigration and asylum
Robert Jenrick
Conservative conference 2023
Conservatives
More on this story

Stillbirths in UK rose in 2021 for first time in seven years

Britons place low value on teaching children obedience, study finds

Music may reduce babies' pain during jabs or heel-prick tests, study suggests

Nearly a third of baby foods sold in UK are ultra-processed, research finds

Germany faces 'catastrophic' paediatric bed shortage as RSV cases soar

Deciphering a baby's cries down to experience, research finds

Girl born four months premature named honorary 41st runner in Grand National

UK doctors accused of helping couples choose the sex of their babies

Midwives call for pregnancy weight targets after study highlights health risks
Most viewed.