Up to 30% OFF Sitewide! --> Details
Up to 30% Off Favors, Gifts & Decor. The Link Text Goes Here No Code Required. Limited Time Offer.
Phantom Chairs in Clear Acrylic
Write a Review
Phantom Chairs in Clear Acrylic - Unique Place Card Holders - Favor Containers
Clear acrylic phantom chairs are not only unique place card holders but why not use them as the base for favors? Rest a truffle on the seat and wait for the compliments from your guests. They're clear so they will fit in superbly with any event color scheme.
Sold in packages of 8
Material: Plastic
1 1/2" x 1 1/2" x 3 3/4" H
Only includes place card holders
Add retro flair with Art Deco Stickers
As featured in:
Diamond Wedding Favor Boxes - Clear Acrylic
Acrylic Wedding Wish Box - Wishing Well
Acrylic Wedding Wish Box - Wishing Well - Greenery Printing
Bohemian Cake Topper - Feather Whimsical - Acrylic
Vintage Chair Favor Boxes

Best Sellers
New Arrivals
Personalized Gift Sets
Stemless Wine Glasses
Corporate Gifts
Custom Design Items
Jewelry & Jewelry Boxes
Monogrammed Gifts
Personalized Barware
Personalized Candy Jars
Glass Bottles & Jars
Glass Coasters
Personalized Coffee Mugs
Pint Glasses
Rocks Glasses
Shot Glasses & Votives
Stemmed Flutes & Glasses
Tumblers & Cups
Personalized Favor Boxes
Personalized Holidays Gifts
Personalized Notebooks
Personalized Party Supplies
Personalized Tags & Labels
Personalized Spa Gifts
Personalized Tins
Playing Cards Personalized
Tote Bags, Coolers & Picnic Baskets
Unique Personalized Ideas
Accessories Collections
Aisle Runners
Banners & Backdrops
Bridal Shower Gifts & Favors
Bridesmaid Gifts
Groomsmen Gifts
Guest Books & Alternatives
Place Card Holders
Ring Bearer & Flower Girl
Toasting Flutes & Glasses
Unique Wedding Accessories
Unity Sand Ceremony
Wedding Cake Accessories
Wedding Decorations
Wedding Stationery
Well Wishes Boxes & Cards
Anniversary
Baby Shower
Bachelorette
Bridal Shower
Engagement Party
Graduation & Greek Life
4th of July
Halloween Favors
Holiday Favors
Personalized Holiday Gifts
Thanksgiving
Valentine's Day Gifts
New Year's Eve
Quinceanera & Sweet 16
Religious Events
Retirement Party
St. Patrick's Day
Valentine's Day
Cheapest Under $1
Inexpensive Under $5
Affordable Under $10
Luxurious Gifts Over $60
Asian and East Indian
Beach-Themed
Other Destinations
Best Day Ever
Bohemian and Shabby Chic
Cactus & Desert Chic
Chalkboard and Shilhouette
Cheers Theme
College and Pro Sports Teams
Eat, Drink and Be Married
Fairy Tale & Happily Ever After
Fleur de Lis
Floral and Botanical
Gold Glitter and Silver Sparkle
The Hunt is Over
Moon and Stars
Pineapple & Tropical Chic
Vintage-Inspired
Travel & Adventure
Vineyard and Wine-Themed
We Tied the Knot
Bridesmaids Gifts
Banners, Signs & Backdrops
Bottle Openers
Wine Bottle Stoppers
Candles and Candle Holders
Coasters & Napkins
Cosmetic Bags
Compact Mirrors
Crystal, Glass and Ceramic
Home Decor Gifts
Luggage Tags
Kitchen and Table
Notebooks and Journals
Photo Frames and Albums
Playing Cards
Sand Ceremony
Totes, Coolers, Picnic Baskets
Favor Boxes & Bags
Favor Tags, Cards & Labels
Favor Tins & Pails
Glass Jars & Candy Jars
Goody Bags & Treat Bags
Party Supplies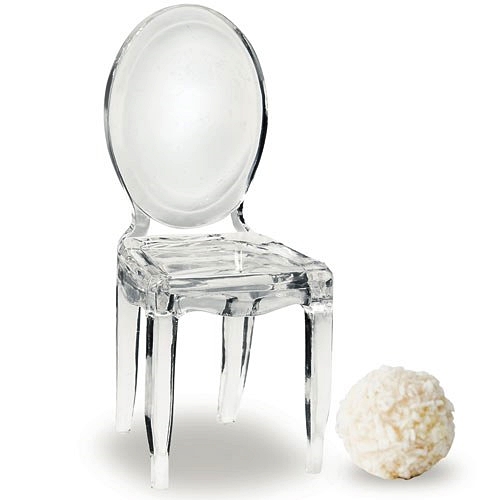 Miniature Clear Acrylic Phantom Chair Placecard Holders (Package of 8)
Dimensions: 3 3/4" x 1 1/2" square
Price: $39.40 for required minimum quantity of 2

Price Drops Today Only!
Pipe & Drape
Fake Flowers
& Greenery
Large Scale
Event Décor
Tabletop &
Centerpieces
Lighting &
Party Supplies
& Balloons
Fabrics &
Spandex & Fitted
Jute Burlap & Lace
Velvet & Flocking
Sparkly Shimmer
Pintuck, Crinkle & Leaf
Commercial Grade Linens
Polyester Table Skirts
Satin Shimmer Table Skirts
Ruffled Tulle Table Skirts
Jute Burlap & Lace Table Skirts
Skirt Clips
Satin & Taffeta Table Runners
Organza & Chiffon Table Runners
Sequin Table Runners
Polyester Table Runners
Gauze Cheesecloth Table Runners
Jute Burlap & Lace Table Runners
Velvet & Flocking Table Runners
Stylish Table Runners
Satin & Taffeta Table Overlays
Sheer Organza Table Overlays
Sequin Table Overlays
Polyester Table Overlays
Jute Burlap & Lace Table Overlays
Velvet & Flocking Table Overlays
Sparkly Shimmer Table Overlays
Satin & Taffeta
Shimmer & Sequin
Gauze Cheesecloth
Airlaid Paper Napkins
Napkin Rings
Polyester & Satin
Spandex Fitted
Organza & Chiffon
Glittering Sequin
Sash Buckles & Clip Pins
Chair Cushion Pads
Chiavari Chair Slip Covers
Event Chairs
Universal Chair Covers
Disposable Dinner Plates
Disposable Salad/Dessert Plates
Eco-Friendly & Paper Plates
Servingwares
Dessert Utensils
Serving Utensils & Picks
Champagne Glasses & Flutes
All Purpose Glasses & Tumblers
Shot Glasses & Dessert Cups
Straws & Food Picks
Dessert Dishes & Snack Bowls
Mini Trays & Jars
Paper Napkins
Disposable Table Covers
Paper Chargers & Trays
Acrylic Charger Plates
Glass & Mirror Charger Plate
Disposable Chargers & Placemats
Reusable Placemats
Backdrop Stands
Fitted Backdrop Covers
Sheer Backdrops
Solid Backdrop Curtain & Dividers
Floral & Greenery Panels
Sparkle & Sequin Backdrops
Crystal|Tassels|Vinyl Backdrops
Ceiling Drapes
Ceiling Hanging Decor
Floral Backdrop Décor
Balloon & Décor Garlands
Banners|Letters |LEDs
Self Adhesive Wall Panels
Wall Decals
Greenery & Flower Wall Panels
Greenery Vines
Floral Garlands
Rose Bouquet
Peony Bouquet
Lily & Tulips
Dahlia & Daisy
Cherry Blossoms & Baby Breath
Hydrangea & Carnation Mums
Artificial Long Stem
Eucalyptus & Boxwood
Leaf & Fern Bushes
Golden Sprays
Succulent Plants
Kissing Balls
Large Floral Décor
Flower Heads
Craft Flowers
Floral Supplies
Bouquet Ribbons & Brooches
Pillar & Pedestal Display Stands
Pedestal Prop Covers
Floor Vase & Candelabra
Champagne & Display Racks
Aisle Runners
Curtains & Drapes
Hanging Lights & Chandelier
Florals & Wreaths
LED & Marquee Letters
Arches & Arbors
Arch Covers
Arch Drapes
Candelabras
Metal Candle Holders
Glass Candle Holders
Wooden & Resin Candle Holders
Tabletop Candles
Centerpiece Stands
Glass Vases
Metal Floral Vases
Vase Fillers
Tabletop Planters
Charger Plates
Disposable Chargers
Mirrors & Wood Slices
Decorative Trays
Letters & Table Numbers
Feathers | Pampas | Sprays
Tabletop LED Décor
Table Scatters
Cake Stand & Riser
Tiered Cake Stand
Decorative Trays & Jars
Cake Toppers
Dessert Servewares
String Lights
Professional Event Lighting
Flameless Candles
Wax Candles
Centerpiece LED
Decorative Lights
Latex Balloons
Foil Mylar & Vinyl Balloons
Number & Letter Balloons
Balloon Arch Kits & Garlands
DIY Balloon Decorations
Decoration Kit
Disposable Table Cover
Paper Plates
Paper Cups & Napkins
Personalized Napkins & Ribbons
Personalized Boxes & Bags
Favor Jars & Containers
Favor Boxes
Favors & Gifts
Ribbons & Trims
Tulle Rolls & Deco Mesh
Stickers & Rhinestones
Wedding Reception Accessories
Sparkly Sequin
Burlap & Lace
Chiffon & Organza
Velvet & Rosette Taffeta
Basic Ribbons
Decorative Ribbon
Decorative Fabric Trims
Self Adhesive Rhinestones
Craft Foams
Feathers and Boa
Floral & Grass Wall Panels
Stick On Panel & Mirrors
Planters & Shelf
Sheer Curtains
Black Out Curtains
Room Divider
Sun Shade Sail
Cushion & Pillow Covers
Outdoor Lighting
Indoor Lighting
12 Pack Clear Plastic Mini Ghost Chair Party Favor Gift Holders, Candy Treat Display Stands 4"
Free Shipping $49.00 to get Free Shipping
Shipping Note
Free Shipping for Orders $49+ in the contiguous 48 US States. (Excludes AK, HI, US Territories, APO/FPO, International Countries)
Please enter your address in checkout for special shipping rate, UPS does not deliver to PO Box.
Flexible Return 180 Days
Return Policy
FREE Returns For Credit: FREE returns for store credit within 180 days of delivery, we cover the return costs! We're with you all the way, so go ahead, shop with confidence!
Returns For Refund: Refund to same payment used, accepted within 60 days of delivery.
Information
Plastic chair favor.
Take your dessert and favor table décor to the next level of style and sophistication with our unique shaped candy favor holders. Crystal clear plastic construction coupled with whimsical chair-shaped formation makes these eccentric holders an elegant baby shower, bridal shower, party, wedding, or birthday favor holder or a dessert server.
Perfect for Candy Table
Intricately handcrafted with love and care in a cute chair structure, these petite holders make a perfect party favor or a cute table decoration. Showcase the scrumptiousness of your special desserts, pastries, cupcakes or cake, by presenting them elegantly on these cute holders. Wide seat is perfect to display items such as candies, jelly beans, small cake slices, muffins, cupcakes, pastries, truffles, and other delectable delicacies.
Mini Candy Containers
Whimsical in appearance and highly purposeful in performance, our lovely chair-shaped gift holders will augment the upscale look of your dessert or cake tables. Use these gorgeous chair-shaped candy holders to present sweet party favors, candies, jellies, or chocolates in the most quirky manner.
Additional Information:
For Chair only. Candies and other decorations not included.
Ideal for displaying small treats such as chocolates and candies
Can be used for candy display, table favor gift, place card holder and more.
Uses : Perfect for birthday, holiday, theme parties, table decoration, special occasions
Based on 15 Reviews
Customer Photos
Attention, Members Only!
Log in to purchase this exclusive product
Don't miss out!
Code applied!
DIY Gold Chair Place Card Holders
The holiday season is on, so it's high time to think of your table setting and accessories you need. To make these cute place card holders you'll need toy furniture chairs, spray paint (gold), colored paper & scissors, ball pins and a sharp pin. Spray paint your chairs in the desired color, and let dry. While you wait, cut paper circles and write the name of a guest on each one. Use the sharp pin to pierce the lower side of each circle, twice. Then pass a ball pin through both holes, as pictured above. When your chairs are dry, use the sharp pin to pierce a hole in each one. If they happen to be hard plastic, just heat up the pin before you proceed. Use the holes to place your ball pins and place cards.
FOLLOW ON US
L a t e s t c r a f t v i d e o s.
DIY Paper Olaf And Elsa From Frozen For Kids
Summer Vacation Memory Craft For Kids
DIY Salt Dough Fish Sun Catchers
DIY Underwater Puppet Theater
Ocean-Inspired Origami Interactive Paper Crafts