Phantom Ship - Treasure Chest Number Password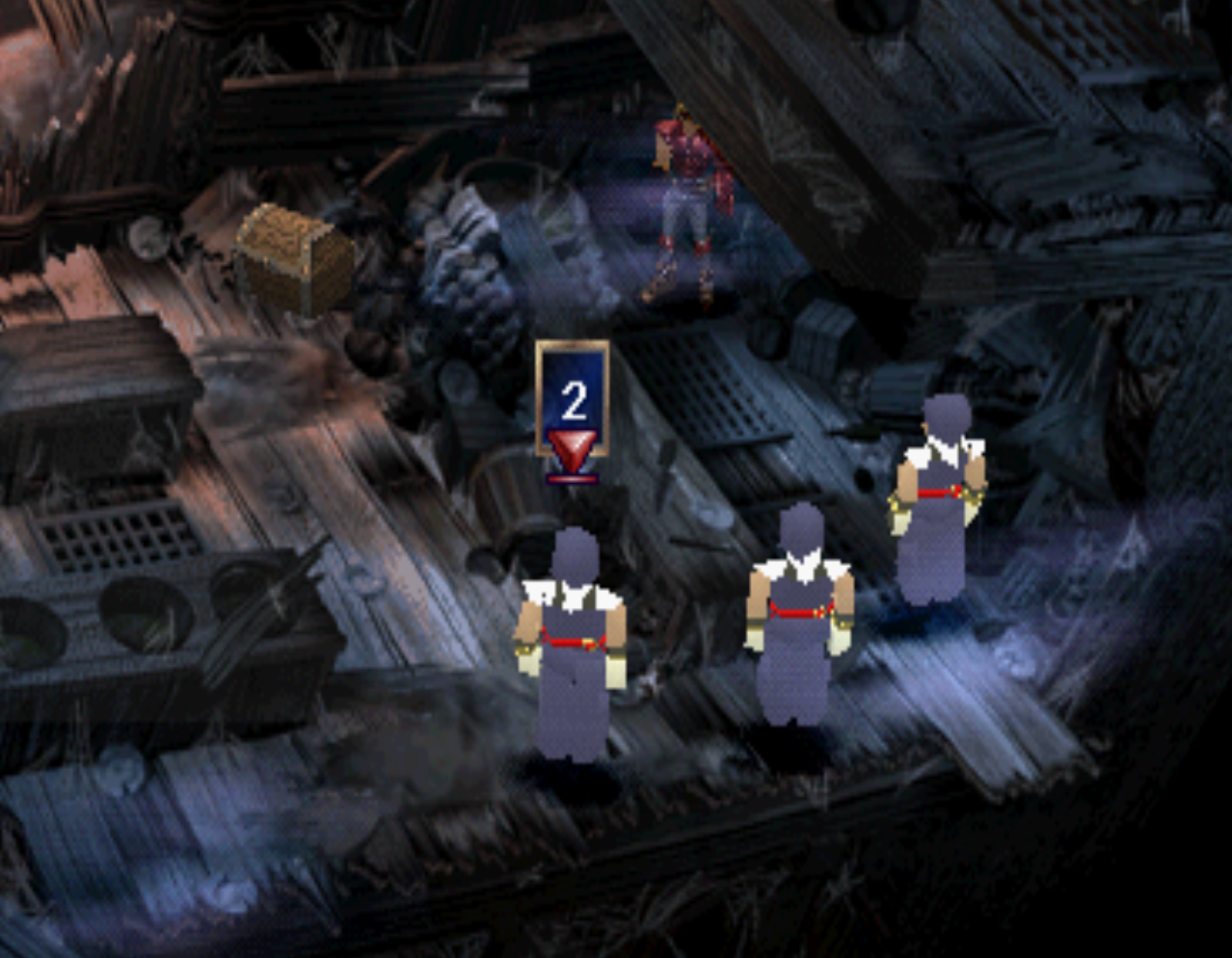 During Disc 2 of The Legend of Dragoon while you're on the Queen Fury a Phantom Ship will ram into your boat. Shortly after boarding the Phantom Ship you'll discover a chest that requires a 3 number combination to open and it gives you a total of 10 tries to open it. The number combination is completely random and changes from game to game and while you're playing. There's no way to "cheat" the system, even with Save States it's no picnic.
After you successfully open it, the chest will close and fill with treasure again and it'll do this multiple times which makes this worth spending some time to learn how to do. There's also some really good loot that you can get from this chest such as the Ultimate Wargod Talisman which will automatically complete additions for you! Here's a list of all the items you can get:
10 Tries: Stun Guard (Prevents Confusion)
8 Tries Left: Panic Guard (Prevents Stun)
6 Tries Left: Magic Ego Bell (Prevents Bewitchment)
4 Tries Left: Talisman (Prevents Instant Death)
2 Tries Left: Ultimate Wargod (Automatically Completes Additions)
Anything Lower: 100G
How the prizes work is a bit odd. The chest will "count" how many times you fail the combination and memorize it between attempts. What this means is if you fail the combination 4 times the first time trying to open it, you'll only get a total of 6 tries the second time. Fail 4 times the second time and the third time you'll only get two tries.
If you input the correct number in the correct location then your attempt won't count as a failure. The only time it counts as a failure is if you input all the correct digits in the wrong spot. What this means is in order to get the Ultimate Wargod item you'll need to fail the chest a total of 8 times before successfully opening it.
Now for the tough part - actually completing the puzzle! This is how the Password works for the Treasure Chest on the Phantom Ship.
- Four Numbers are given to you for each password
- Only three of them are actually used
- Every time you enter a correct number in the correct position it'll display the text "..." after you try to complete the puzzle. An example of this is shown in my screen shot below.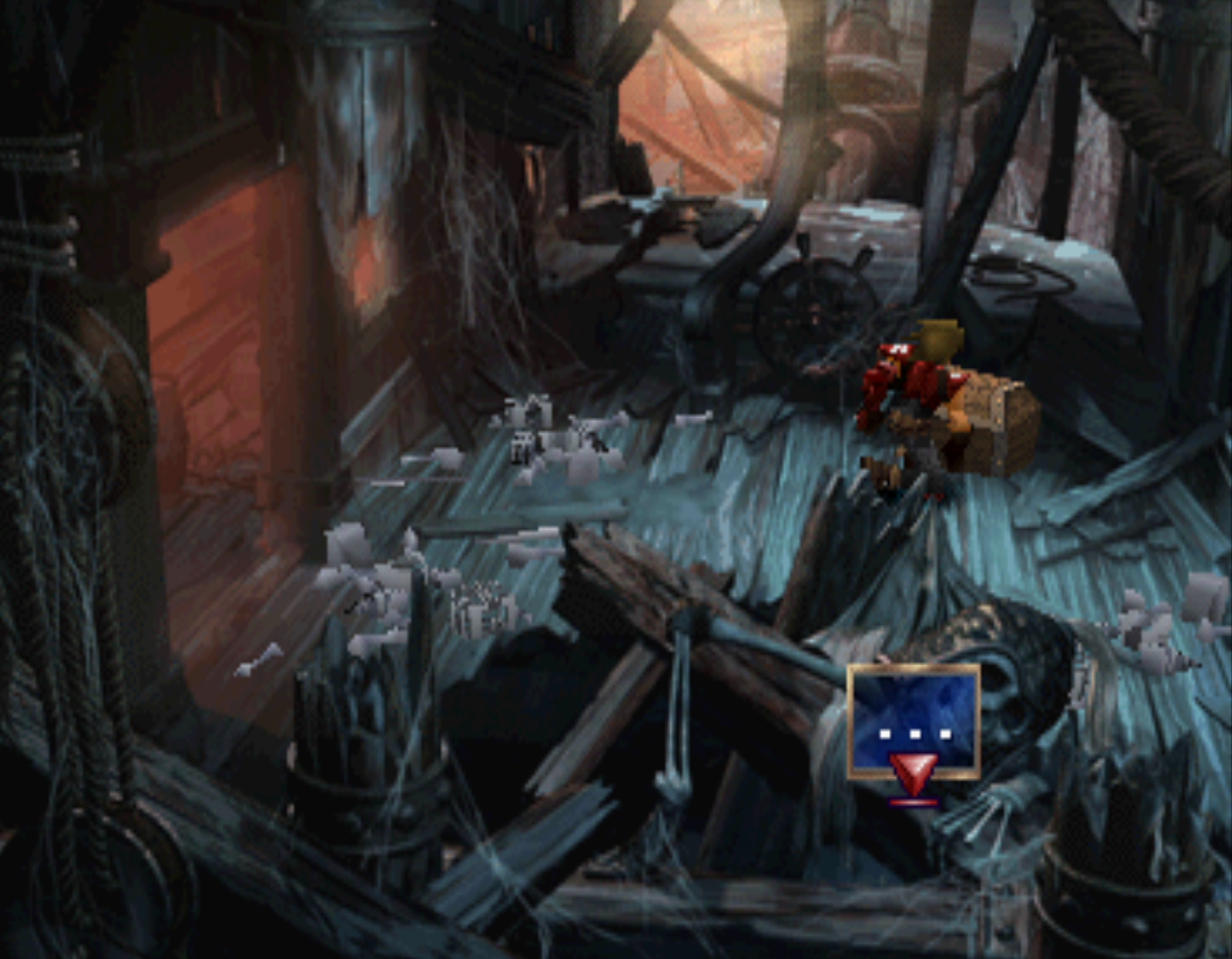 To make things a bit easier for you to understand, I have provided you with three examples of the numbers I got from the ghosts and the logic that I used to complete the puzzle each of those times. If you use the same steps I did below you'll be able to solve the puzzle easily each time and get an Ultimate Wargod like I did!
My numbers: 0279
- Start with the same number repeated all three times, in my case I did 0 0 0
- It returned "..." so I then tried 0 2 8 and none were correct, thanks to the last entry of 0 0 0 I know that one of the three 0s is correct.
- I now try 2 0 8. Again, like the attempt before it none of the numbers are correct. I now know the correct position of 0 though. Thanks to the previous trials and errors I now know that the number is some variant of XX0 with a zero in the final position.
- Now I try 2 2 8 and none of the numbers are correct. I now know that 2 is the number not being used since one of those two would have been correct if it was.
- Now I try 7 2 8 and nothing is correct. This now tells me that the combination is 9 7 0. How do I know that? Because the numbers 9 and 7 HAVE to be used and from our last attempt we can assume that the second position is where the 7 goes which means the only other number that could possibly fill the first position is 9.
My numbers: 1146
- I start with the combination 4 4 4 to see if that number is the dud, one of those 4s was correct
- I try 4 0 0 and it tells me that the four is in the correct spot - lucky!
- Next up I try 3 1 5, it tells me that I have one of the numbers correct again which reveals to me that my number is 4 1 X.
- Since I have two 1s I try 4 1 1 and the chest successfully opens for me. I got pretty lucky this time.
My numbers: 2729
- Start with the combination 7 7 7 and it tells me one of the numbers is correct.
- Try the combination 7 8 8 and it tells me that all of the numbers are wrong, which lets me know that 7 is in the wrong position.
- I try the combination 6 7 8 and it gives me the "..." letting me know that the 7 is in the correct spot.
- I then try the combination 2 8 8 and it tells me that one of the numbers is correct, meaning the two. This gives my combination two possibilities, it can either be 2 7 2 or 2 7 9.
- I roll the dice and try 2 7 2 and it doesn't work meaning that the password is 2 7 9.
Guide part 21
Glimpse from the past treasures:.
5. Key of the Phantom Ship
6. Bravery Amulet
7. Night Raid (Boss)
8. Dancing Dagger
9. Special Chest Items: Stun Guard, Panic Guard, Magic Ego Bell, Talisman, Wargod's Sash, 100G
Stardust: 0 Total Stardust: 32
Man o man Shana's always in the middle of it. This time, she's got backup though - two knights are going to pop out and proect her from the skeletons and the phatasm by the stair. Dart will show up and get Shana back. Go towards the left and jump back on to the Queen Fury. There's a refresh point, save point, and an item/weapon shop. In other words, the Ghost Ship is another excellent level-building section. The monsters on here are going to give you some of the best experience points in the game too ;o) Whenever you're ready to go through and beat the ship, head to the door that's directly behind the staircase leading down. You'll can either try to weave around or fight through to the Captain's cabin. The door will be locked so you gotta go find the key. Once downstair you'll see a that purple phantasm that attacked Shana earlier; follow it around into each room and fight it. In the last room, you'll have to fight three of the purple phantasms. In the hall you'll find a chest with 50 Gold; inside the kitchen you'll find the...Captain's Ghost? It seems that this is the key to the cabin; plus 20 Gold. If you touch the glowing item you'll see four ghosts pop up and give you the code to use for the multi-item chest; you won't be able to access the chest until later on though. Make your way back to the Captain's Cabin and you'll get a somewhat chilly cutscene. Check the chests for 100 Gold and 200 Gold, then the glittering object for the Key of the Phantom Ship. On the way out two knights will appear and attack Rose, thinking she's the Black Monster. After an uncharacterstic outburst from Rose, head back to the Queen Fury if you need to heal and to save. Check the door that's on the Ghost Ship before you hop over to the Queen Fury for the mystery chest; everytime you open it up it will close with a new itme and you'll have to go back down and get a new passcode. You can do this up to 6 or 7 times. Once you're done exploiting the dead, head to the previously locked door by the staircase. It will open up now and inside you'll find a Bravery Amulet - you'll also have to fight 4 Ghost Knight and a Ghost Commander. They're not hard but take care of the captain first so the others won't regenerate; they do cast a lot of 'despirit' and 'fear' effects so have some Mind Purifiers handy. Despirit just won't let you get SP but fear will knock down your attack and defense ratings. You'll get a Night Raid for winning. After the battle, the Ghost Commander will refer to Shana as Princess Louvia..what is going on? Continue to the room on the left and grab a Dancing Dagger, then check the crib for a cutscene with a Nanny's ghost - and man, even though it was a vid game, that dead nanny still freaked me out! Just to add to the confusion, she'll also say that Shana is Princess Louvia....time to exit the ship. Whoops..the ship isn't holding on - whatever was keeping it afloat is now gone and the Ghost Ship is sinking. Everyone will make it out except Dart and Rose, who will fall into the sea. For feedback or questions, e-mail IGNguides at: [email protected].
Up Next: Guide part 22
Top guide sections.
Was this guide helpful?
In this guide.
Phantom Ship
3.2 Stardust
3.3 Treasure Chests
4.1 Minor Mobs
4.2 Battle Formations
7 References
Collectibles
Main article: Goods
Main article: Stardust
Treasure Chests
Main article: Treasure Chests
There are X treasure chests in this area.
Battle Formations
Navigation menu
Personal tools.
View source
View history
Recent changes
Random page
Help about MediaWiki
What links here
Related changes
Special pages
Printable version
Permanent link
Page information
This page was last edited on 27 March 2022, at 04:37.
Privacy policy
About Legend of Dragoon - Wiki Project
Disclaimers
PlayStation 3
PlayStation 4
PlayStation 5
Xbox Series
More Systems
Phantom ship password chest?
The legend of dragoon, playstation playstation 4 playstation 5, the legend of dragoon (playstation).
I'm playing on a PSX emulator and i'm at the phantom ship. i'm trying to get the ultimate wargod from the chest, but it doesn't matter how many tries i have left, i just get the stupid stun guard. any ideas on what's wrong? Ickelmay - 13 years ago - report
Accepted Answer
You'll get the Ultimate Wargod the fifth time you correctly solve the puzzle. The first four are other items (once for Stun Guard, twice for Panic Guard, Magic Ego Bell is the third, and Talisman is the fourth). Six (or more) times will get you 100 Gold per solve, but you get one guess. Kraleck ( Expert ) - 13 years ago - report 2 0
Top Voted Answer
You get about 4 different items in the same chest until you reopen it the 5th time. You must reopen that chest to get 5 different prizes but after the 5th time, it only gives you 100 G. Check the Phantom Ship Chest/Mini Game FAQs on the FAQs section of this site. pika25 ( Expert ) - 13 years ago - report 3 0
More Questions from This Game
What is in the closet on the ship? General PS 3 answers
How do i get the ghost ship to load? Tech Support PS 3 answers
How do I beat phantom ship ? General PS 1 answer
How do I beat phantom ship? Enemy/Boss PS 1 answer
how to beat knights in phantom ship ? Enemy/Boss PS 1 answer

Phantom Ship
Can't Combat
Edit source
View history
1 Appearance
3 Battle pairing / formation
Appearance [ ]
Death have the appearance of a traditional Grim Reaper: they sport bare skulls, skeletal hands wielding a Scythe and long black cloak.
Hands down, if this creature is fighting you, regardless of whatever other creatures are with it, prioritize killing this immediately. You will save yourself from the frustrations of getting spammed by Can't Combat and Fear a lot. It isn't very fast but it can still deal medium damage averagely, do a severely powerful attack probably half killing a target, inflict fear upon a target with some minor damage, or instantly kills you. This is the most annoying enemy in this location other than the limited Magician Bogey .
Des Rapier - Floats towards a single target and swings Scythe dealing medium physical damage.
Charging Spirit - Prepares to do a special or All-Out Attack.
All-Out Attack - Deals massive physical damage to a single target.
Lightning Punisher - Inflicts the status ailment Can't Combat upon a single target.
Midnight Terror - Inflicts Fear upon a single target.
Do note you can fight two of these at once and even two with a Skeleton , both on rare occasion of course.
Encounter rate: Uncommon
Battle pairing / formation [ ]
All battle formations in which you will encounter a Death :
Death + Will-O-Wisp x2
>Death x2
Death x2 + Skeleton
This creature can drop  Total Vanishing  with an 8% probability. This chance is rare, however, if you can get it than you could instantly destroy minor enemies with it. It would take at least 30+ minutes on average. There is no returning to this area, but you will still be able to find more later in the game.
Gallery [ ]