She Is A Ghost
March 17, 2023 Shaba Listicah Adventure Stories 0
He looked at me and wiped the blood off from the corner of his lips with his finger. "You're sure a funny type. How can you come to my house and pick up a fight with me for no reason?"he asked looking at me. "You're a beast! You don't worth living on earth. All your evil deeds will be revealed soon. I'll make sure of that."I said looking at him. "Really? Wow, you're so amusing."he said looking at me. He moved closer to my ear smiling. "Go ahead and do that. Let's see what you've got. When you have the evidence, come back to me"he said. I tighten my fist getting more angry. He looked at me smiling. "You this monster! I'll make sure I be the one to rip out your black evil heart. I'll get revenge for what you and your witch mother did to my mum."I said looking at him.
I got out of his house and headed home still angry. : Debbie's parent were informed about their daughter's condition. After they took Debbie out of the country, the police began investigation on the incident. Evidence was not found because am sure Stephen would have took care of it. They continue the investigation on the case but the culprit was not found. : Sandra's POV
I was sitting opposite to stephen in the office. He brought out a black sachet from his drawer and showed it to me. "This dropped from Debbie. She tried to use this on me when I was with her. This is for destroying evil spirits and ghosts. I wonder where she got it from."he said looking at it. "Really? You mean this can destroy evil spirits?"I asked in surprise. I now know why Debbie was so desperate to get this from her house. She planned to use it on Stephen?"I thought to myself staring at it. "But so bad this can't work on me like that. Am so powerful than this. It can work only if one thing is added to it"he said looking at me. "I wonder what that could be but I don't want to ask him too much of questions not to looks suspicious. "That only one thing that could be added to this to make it work one me is….. I can't tell you about that. It's a secret within me."he said looking at me.
He never tell me about it and I didn't ask him.
: John's POV
After I closed from work, I went home. When I got home and entered my room, I saw Stella moving about. I was so scared when I first saw her. I thought it was an evil ghost. "What are you doing here?"I asked her. "I just got In. I feel like seeing your room when you were absent. I didn't know you'll come back early"she replied looking at me. I moved to the shelf where she was standing and quickly picked the wrist chain up. I forgot to put it back into the drawer this morning. She looked at me smiling. "Don't worry I saw it already."she said smiling. "Really?"i asked and then closed the box and dropped it in my drawer closing it back.
She turned to me making a serious face. "But.. That looks familiar."she said. "Have we met before?"she asked staring at me.
I was so confused of answer I suppose to say to the question. "Do you remember anything?"I asked her. "I have a feeling like we've met before"she said looking confused.
"I don't think so"I said and took off my suit. I heard out while she followed me. When I got to the living room, I heard someone pressing on the bell and I went to check who's at the door.
: Cassandra's POV
After we closed from work, I visited john and Stella. I think it's time to let them know Stella is not dead yet but in coma.
When I got to John's house, I explained all what Stephen told me. "So you mean only one thing could be added to the black powder to make it work? But what is it?"he asked looking at me. "Yes. But I have no idea what it could be"I said. "We'll find that out. We must find it out"he said looking at me. "And I have something to tell you guys."I said looking at john and looking beside him not knowing where Stella could be. "What's that?"he asked looking at me.
Choose Episodes Below;
Note: episodes already read are highlighted in red!
MORE STORIES FOR YOU 🔥
Be the first to comment
Leave a reply cancel reply.
Your email address will not be published.
Save my name, email, and website in this browser for the next time I comment.
© NaijaPrey Stories | Powered by NAIJAPREY MEDIA
onihaxy media
Download free / cheap twinkas, loopers, MMM (2022) ponzi script. [UPDATED]
My girlfriend and I episode 5
Once upon a corper story episode 14
Once upon a corper story episode 13
My girlfriend and I episode 4
↓ CLICK HERE to place Ads here ↓
She is a ghost episode 30
SHE'S A GHOST Episode 30 John's POV When Stella and I waited for Debbie and Sandra for so long, I took my phone and dialed Debbie's number but she was not picking up. It rang for so long but no one pick it. "What's happening? Why Is she not picking up?"Stella asked looking at me. "I don't know. Let me get there now"I replied and took my car key from the couch heading out. She followed me and we both went to Debbie's apartment. When I got there, I saw the door opened. I got to the living room and found Sandra's phone on the center table. The house was so quiet that I wondered what really happened. I walked slowly towards her room. When I got there, I was so shocked by what I saw. When Stella also got there and looked inside, she opened her mouth in shock. "Debbie! Sandra! What really happened here?"she asked crying. She rushed to both of them calling there names. I was just staring at them. I don't know what next to do. It felt like a bad dream to me. Stella was weeping while calling there names. "Stephen did it again?"I said in a low tone looking at both of them. Few minutes later, the ambulance came to take them after I reported the incident. Debbie was badly injured with her body full of blood. "Had I know, I won't let her come for what she wants to take. I wonder what made her risked her life for it like this"I thought to myself regretting. As they took them into the ambulance, Stella was still crying. I followed them to the hospital in the ambulance. Just as they were giving them first aids, Cassandra opened her eyes and stood up. "Debbie! Where's Debbie"that was her first statement. "Calm down. She's in a critical state right now." One of the nurse said holding her. When we got there, Debbie was taken into the operation room. While, Cassandra, Stella and I waited behind. I was so sad and was moving about looking worried. : Stella's POV It was bad and heartbroken to see Debbie in that state. I knew Stephen was the one behind it. When the operation took so long, I got tired of waiting and headed there. "I have to see her now. I want to know what's really happening"I said looking at john. "But you can't. It would make you cry more"he said looking at me. Sandra was staring at his mouth while looking by each side looking for me. "I won't. My mind is not at peace. Let me just go"I said and disappeared. When I got to the operation room, I saw as the doctors were trying their best on her. I moved closer and looked at her face weeping. I bit my finger shaking my head at her sight. The doctors were trying their best to save her life but it was all useless. When the machine drops to 00,they all gave up. I started crying more. "What happened to her? Is she dead? Why are you guys not doing anything?"I asked them even though they can't hear my voice. I stood beside her crying seriously. "Debbie you can't die also. Please wake up. Am sorry for everything. You're like this because of me. Please wake up Debbie!"I screamed her name. I felt a light tap behind me and I looked back. To my surprise I saw Debbie. "It's not your fault. It's my fate to die today. I don't regret anything because I know everything would be over soon. Stop weeping."she said looking at me. "No! You can't see me because you're not dead yet. You have to stay alive to see Stephen doom. Don't die now. Please do that for me as your best friend. Go back to life you're not suppose to be here with me please!!!"I said crying. She nodded her head and walked towards the bed her soul was lying. She slept on it and her spirit disappeared. "Her heart Is beating again"a doctor said and they all continue the operation. I took a deep breath nodding my head positively. "Yes. That's how it should be. You have to go back"I said looking at her. : John's POV We waited almost 2hours and the operation was still going on. I wonder what's really happening. After some minutes, the operation was over and the doctor came out. I quickly rushed to him "how was it? What will happen to her?"I asked him. "Her condition is very critical. She's between life and death. we tried our best but no other option than to fly her out of this country for better treatment. Her rate of survival is so thin. We have to do that quickly or we'll lose her."the doctor said looking at me. "OK. That would be done soon. But please she must not die"I said looking at him. : Cassandra's POV My phone rang and I picked it. I saw Stephen's number and I quickly picked it. "Hello"I said. "Meet me at my place right now!"he said in a loud voice. He hung up the phone after her said that. "I will be back. Stephen just called"I said looking at john. He nodded his head in response and I left the hospital. When I got to his house, he opened the door and I walked in. "Why did you…."I've not finish the statement before he landed a thunderous slap on my face. "Why are with Debbie today? I wanted to kill you back there but I thought of one thing. You're an orphan! With that, I hesitated"he said looking at me. I went on my kneels and started apologizing. "Am so sorry. Debbie and I went to her house because I want to get something from her. Please believe me. I'll never do anything that'll hurt you"I said with my face down. He moved closer to me while I already closed my eyes for him to do the worst. He patted my head gently"I know you can't do anything to Hurt me. I trust you ok. Please let my trust in you be there"he said looking at me. I took a breath of relieve when I heard that. : John's POV Stella came out and was standing beside me. "Debbie is going to be OK right?"she asked. "Yes. She'll definitely be alright"i replied looking at her. "Why does Stephen keep hurting people around me. This is too much for me to bare. What should we do?"she asked looking at me. "That guy is so evil. I regretted ever being his blood. I can't take this pain any longer"I said looking at Stella. I left her side and went out of the hospital. She followed me behind wondering what am up to. Because I left my car at Debbie's house, I took a taxi and headed to Stephen's place. When I got there, I paid the taxi man and headed towards his building. I pressed on the bell and the door was opened by Stephen. The look on his face was like, why-are-you-her e? "Hy Bro. Why are you here? I was so surprise to see you here for the first time"he said looking at me. "Why did you do that to her?"I asked, looking at me. "What are you talking about?"he asked acting innocent. "Stop putting on a show. Why did you do that to the innocent Debbie?"I repeated looking at her. "Why did you think it's me? Do you have any evidence for that?"he asked smiling. The smile makes me more irritated and angry. I could Not hold in my anger any longer that I punched his face and that left a cut at the corner of his lips. : TBC…
Looking for a story and couldn't find it on Homepage? 
Click Here for list of All stories
Readers with the highest number of comments will Get TWO premium COMPLETE STORIES for FREE every week . Always leave a comment on every story and stand a CHANCE
You may also like.
She is a ghost episode 6
She is a ghost episode 3, she is a ghost episode 31, leave a reply cancel reply.
Your email address will not be published. Required fields are marked *
CAPTCHA Code *
Currently you have JavaScript disabled. In order to post comments, please make sure JavaScript and Cookies are enabled, and reload the page. Click here for instructions on how to enable JavaScript in your browser.
Get latest news, updates and happenings around the world, also read interesting stories from great Authors. We are the best in information and entertainment
She is a Ghost episode 31-36 FINALE
Episode 31 He looks so much interested in what I want to say to him. "What's that? Do still have any secret we don't know about?"he asked looking at me. "Yes I do. And the secret is.."I stopped on seeing the reaction on his face. "Continue"he said looking at me. "The truth is, Stella is not dead yet but In coma"I finally said. His eyes went wild on hearing that. He has this confusing look on his face. He was silent for a while staring at me. : John's POV When she said that, my heart beats so hard and I found it hard to believe. Stella was also surprised to hear that. She was also staring at Cassandra but can't ask her anything about it because she can't see or hear her. So, she faced me directly. "What's the meaning of what she's saying? Could that be truth? Am I not dead? Then why am I invisible to humans? What does she really mean?"she asked me questions continuously but I could not find any answer to that because I was more confused. "How? I mean have you seen her? Where's she?"I asked looking at her. "My Foster parents home. They took her in the day of the accident because luckily for her, their daughter who happened to be one of her fan, found her and took her home that day. Since then, Stella had been in coma up till now am talking to you guys. She still have a chance to live, if the treatment make a quick recovery on her."she said staring at me. "Really? I could still live as a human? Could this be real?"Stella said sounding unbelievable. I looked at her and smiled. "That's a good news. That means you still have hope of returning being a human one day"I said looking at her. : Cassandra took us to where Stella was. When we got to their house, I greeted the woman and a girl. I guess she was the one who saved Stella. Cassandra called the woman privately to talk to her. After few minutes, they're back to the living room. "Am so happy for this. We have been taking care of this girl for the past three years. Even though my husband doesn't know her parents, he continue putting all his effort to her recovery. I also support her treatment due to my daughter's love for her. Since she was stabbed the day she was brought her, i thing someone tried to kill her. Good thing she was found on time or else she would have died."the woman said facing me. I looked at Stella beside me and nodded my head to her saying it's OK. She felt bad remembering the whole incident again. I was taken to the room she was put in. I moved closer to bed and looked at her closely. Her face looks the same. It never change. Stella also moved closer but was a bit far from where I was standing. The looks on her face tells that she's hurt. She feel sad looking at her body. "Lets go back"I said to stop her from looking. : After john went to the room to check on her, I sat down in the couch with mum the living room. : Jenny's POV Stephen got into the room Stella was kept without anyone's knowledge. He moved closer to her bed and removed a sharp knife from his coat. He raised it up to stab stella but Cassandra stopped her. She got into a real fight with Stephen stopping him from using the object on her. Stephen turned into a scary beast and overpowered Cassandra. He used the object on Cassandra instead. While Cassandra was battling with the spot she was stabbed, she still tried her best to stop Stephen. She brought out a black sachet from pocket and opened it with her teeth. She blew it on Stephen but it doesn't work on him. Rather it makes him more powerful. The black powder stained her hand already. It mixed with the blood on her hands. While Stephen tried to attack her again, she pushed him away with her bloody hand. Stephen staggered back and the spot Sandra touched started burning. She looked at her hand In surprise and approached him. When she got to him, she touched his body with both hands and Stephen started burning. She did it continuously hitting him angrily with her hand. Stephen became more powerless. Finally, a black evil spirit came out of him and turns into arches before it disappeared into the thin air. After that, Cassandra fell to the ground and died while Stephen also fell to the ground and died also. I opened my eyes sweating and breathing heavily. It was all a dream?
Episode 32 "What do we do now? No one must hurt or die again"john said feeling bad. "I also don't know what to do."I replied looking at him. "Jenny told me her grandma can help on that. Should we give it a try?"I asked looking at him : The following day… Cassandra's POV When I got to work, I went to Stephen's office to check on him. Because that's how I do everyday I got to work. I entered and looked around. I found no one in his office. I think he went somewhere. I know he's at work because his office was not locked. I entered and went to his table. I remembered he brought out the black sachet from one of the drawer. I looked through the window to check if anyone is coming. When I saw no one was coming, I opened the drawer and started looking for the sachet. I searched everywhere In the drawer but was not able to find it. I closed them back and positioned everything the way they were kept. I stood up looking around. "Where could he have kept it? Why can't I find it?"I asked myself looking at every angle. I looked at the waste bin by the door and my mind told me maybe he disposed it there. I walked there and opened the cover. I fumble with the peppers and other stuffs there. I haven't search for long before I found it. I picked it and stood up holding it. "Yes! I got it"I said smiling. I placed back the trashes and covered the waste bin. I kept the sachet In my pocket and adjusted my dress properly. As I was about to leave, the door opened and Stephen walks in. My heart almost jump out at the sight of him. He was staring at me awkwardly and that made me more scared and restless. "Good morning"I said smiling with one mind. "How was your night?"he replied and walked towards his desk. He sat down on the chair looking at me. "I called your line yesterday night but you were not picking. Why?"he said looking at me. "Oh. I was at home. Maybe I was fast asleep then"I said in a firm voice. "You were asleep?"he asked looking at me. "Yes. Why did you call?"I asked. "I just wanted to ask if you arrived home safely"he said looking at me. "Yes. Thanks"I replied smiling. : Stephen's POV I think she's keeping something from me. How can she lie about her where about yesterday?"I thought to myself staring at her. Well I already implanted a bug in her favorite hand bag. Anything that happens, I would be able to know soon. "You can leave for now. I don't have anything to say to you now. Maybe later in the day"I said looking at her. "Alright sir"she said and left my office. Three days gone. She didn't go to that place. On the night of the fourth day, she headed there again. I also followed her. When she got there, she entered the building again. I packed my car to the side of the road. And connected the device. I inserted my Bluetooth to my ear to listening to whatever they were saying. : Sandra's POV When I got to Elle's parent home, I greeted everyone. "Welcome dear. How's work?"dad asked smiling. I went to sit down on the couch beside mum. "Your mum was here today. She came to check on Stella. She just left not too long."mum said smiling. "Really? I also called her this afternoon. I'll give her a visit tomorrow. You wonder how I met my mum? Actually dad tried her best to find my biological parents when I told them Stella was my blood sister. Few weeks ago, he was able to find my mum. He told me our mum traveled out of the country a year after the news said Stella died. It was a painful experience for her. She was left with no one because father also died few days after he heard about Stella's death. Mum found it hard to live on but was forced to accept that as fate. When she came back from traveling, doctor Josh was able to find her quickly because he told me my mum came for check up at his hospital. He found out she was his old friend in high school. They exchanged greetings and were so excited they met again. So, doctor asked her about her family. It was then she told her the story on how she lost me and how Stella died. Mr Josh said he was so surprised after she said all that. He also told her everything on how he found me and how he saved stella. He said my mum was overjoyed that day. She wanted to compensate her with a lot of money but Mr Josh rejected it saying it's fate. He then brought my mum home that day. She saw where Stella was kept for treatment. That was why daddy called me to come home that day saying he have good news for me. When I got home, and he explained everything to me, my mum and I hugged each other crying. She cried so much that I consoled her. I told her nothing would happen to us again since we all met each other again. Even If Stella was still in coma, I know she'll wake up one day. Back to present. "Oh I really missed. I'll meet her tomorrow then"I said looking at dad. "How's Stella's health?"I asked dad. "She's getting better than expected. I guaranty that she'll wake up in no less than a week of two."he replied. "Am so happy on how things changes now. My mum is back and my sister will wake up soon. I hope nothing bad happen to any of us again. And everybody"I said looking at dad. "Amen!"they chorused smiling. : Stephens POV When I heard all the conversation, I found it so hard to believe that Stella was not dead. How? I mean I stabbed her back then. And the dagger was not ordinary. She was suppose to be as good as dead. What went wrong that day? She must not wake up or my mum will be in trouble. I have to stop every chance of that."I thought to myself.
SHE IS A GHOST Episode 33 John's POV The following day, Jenny, Stella and I went to Jenny's grandma's place. It was a bit far from us. Not different from a hometown because everywhere still looks old unlike city. Jenny was directing me while I was driving. When we got there, I packed my car in front of their gate and we got down. "Is it this building?"I asked Jenny. "Yes. She lives here."she replied nodding her head. The house still looks neat unlike some we saw while coming. It's just a mini flat but looks old fashioned. Jenny moved closer to the gate and knocked on it. In Few seconds, a lady came to open it. "Good morning Jenny"she greeted smiling. "Good morning."she returned the greeting while we walks in. "Grandma went to get something she'll be back shortly"the lady said looking at Jenny. "Why can't you get it for her instead of stressing her?"she asked. "She insisted on getting it herself. You know how she act stubborn"the lady said with a little frown. "Alright we'll wait for her"Jenny said. "Let's go in"she said facing us. She lead us in while we followed her behind. I was looking around the compound as we walked towards the door. When we got to the door, Jenny opened it and we got in. The house looks better that I think. It was well finished and neat unlike it's outside. We got to the living room and she told us to have our seat. We sat down on the couch while the other lady left us. In few seconds, she came back with juice and two glass cups in a tray. She placed it on the table and was about opening it. "Don't bother. I'll do it myself"Jenny said. "Alright."she said and left us. : Cassandra's POV I visited my mum's place as promised. When I got there, she was so happy to see me. "I went to Joshua's place yesterday expecting you to be there"she said looking at me. "Yes I was told you came. I was busy at work by those time. That was why I came to visit you specially today."I said smiling. "How's everything? How are you doing at your work place?"she asked staring at me. "Am doing good."I replied. "It was so boring living alone all this while. But now am happy that am not alone anymore."she said looking at me. "I'll soon move…"I stopped for a while when I saw something by my handbag. I removed it and was staring at it. I know Stephen planted this on me. "Oh my God! Am finished. He already heard so many things. What should I do?"I thought to myself looking at it. "What's the problem? What's that?"mum asked looking at my hand. I placed my finger to my lips giving her sign to be quiet for a while. I took my phone and texted her. "It's a bug. Someone is monitoring me"I sent it to her. "Really? Who's it?"she texted back. "I need to leave for now. I'll visit you later"I texted and picked up my bag. I waved at her and left the living room heading out for my car. When I got to the compound and was about opening my car door, Stephen's call came in. : John's POV We waited more than 30mins before Jenny's grandma arrives home. I greeted her and Jenny did the same. Stella didn't bother to greet because she can't see her anyway. She looks beside me as if she saw her. "You were not thought how to greet?"she asked looking beside me. I first thought she was referring to me but I found out it was Stella. "Good evening ma. I don't know you could see me also"Stella said looking at her in surprise. "Why can't I? Are you saying my sights are bad?"she asked looking at her. "Am sorry ma"Stella apologized again. "It OK. But learn to greet people"she said. By looking at her, she looks like a strict person. I guess she'll be so wicked for real. By judging by her behavior, she must be a mean grandma"i thought to myself looking At her. She raised her eyebrows looking at me. Jenny also looked at my direction smiling. "Don't judge people by their behaviors. Not everyone with bad behavior and attitudes are wicked OK?"she said looking at me badly. I was so surprised she knew what I was thinking. I tried so hard not to think she's a witch or she might know that too. I focused my mind on another thing and try hard not to think about anything. "So, why are you guys here?"she asked. Jenny explained everything to her about Stephen and his evil deeds. She requested a way to get ride of Stephen without sacrificing any life. After Jenny told her this, she was silent for a while staring at us. "Who told you guys a life would be sacrificed?"she asked looking at us. "I told them. I dreamt about it a couple of days"Jenny said. " It's so simple. If you must get ride of the evil spirit inside him, he will die as well."she said. "Yes. Who care?"Stella said looking at her. "OK. If you guys want to get ride of him, his true love blood would be mixed to the black power. Which is the girl you saw in your dream. She won't die. If her blood is mixed with it, then that would get ride of him. His true love blood. But the spirit in me right now is telling me the girl is near to her grave because the evil spirit is after her. If you guys fail to do this tomorrow or earlier, two person will die soon. I don't really see the second person but he/she is among us here right now"she said looking at us one after the other. My heart was beating so fast on hearing that. "Not again! No one must die again before his evil deed would be revealed."I thought to myself feeling restless.
Episode 34 We started staring at each other one after the other in shock. "That means we need to hurry up"Jenny said looking at me. "Let me call Sandra when we leave. Because I don't even know how to get the black powder. How should we do this?"I said. When we left Jenny grandma's place, we were heading back in my car. "We need to act fast or Stephen might win this time around too. I can't stand it if he hurt two people at the same day. We need to stop him"I said. I brought out my phone and called Sandra. "Hello. Where are you?"I asked her. "Stephen called for me. Am heading to his place now"she replied. "No! You can't. Please go to my place we'll soon be there. Stephen is planning something more bad this time. Your life is at risk. Don't go to him please"I said begging her. "OK. I will"she replied without hesitation. I dropped the call and concentrated in driving. "What did she say? Is she going to your house?"Stella asked sounding worried. "Yes she is"I replied and put more speed to the car. When we got to my house, I saw her car packed outside while she was standing beside it. I packed beside her and we all get out. "Let's go in"I said leading them towards the door. I opened the door with my key and we went in. We all sat in the living room with worried expression on everyone's face. I explained everything Jenny's grandma told us to Cassandra. She was so surprised her blood was the only ingredient that could be added to the powder to destroy Stephen. "Am ready to give as much blood as needed just to get ride of that demon"she said. "But what of the powder? How can we get that from him?"Jenny asked her. She smiled nodding her head. "No need to worry about that. I have it with me."she replied. I was so confused on how she got it from Stephen. "How did it get to you? Hope he won't suspect you take it?"I asked her. "He disposed it himself since it's something that might destroy him, I think that was why he disposed it. I was so lucky to find it before the cleaner could empty then trash"she replied. She opened her handbag and brought it out of an extra black nylon. "Here it is"she said showing it to us. I got relieved after seeing it but my mind was not at peace yet because we were told to act fast before it would be too late. A call came into Cassandra's phone. She took her phone and looked at the screen then looked back at us. "Stephen?"I guess looking at her. She nodded her head in response. "Pick it and tell him you're feeling sick so you can't make it to his place."I said looking at her. She picked it and placed it to her hear. "Hello. When I wanted to come, I felt a strong stomach ache so I went back inside to rest. Am sorry for not making it up to you"Sandra said sounding weak. I don't know Stephen's reply. "No you don't need to visit me. I'll be OK soon because I've called my doctor to attend to me. You don't need to bother about that"Sandra said. When she ended the call, I asked her what Stephen said to her on phone. "He said he want to come and check on me but I told him not to bother"she replied. "How do we withdraw your blood? We need to be fast as she told us"I said looking at Cassandra. : Stephen's POV When I called her, she lied to me she was at home when I knew she wasn't. I trusted Sandra with all my heart but she has betrayed me by working with john and co. I know what to do to her but I don't want something I'll regret later because I truly love her. Anytime the evil spirit in me tried to react to her, I always try best to stop that from happening because sometimes I use to have control over the spirit. Those time I can't control it were the time I killed Stella and Debbie and many other people that are so dear to me. my body was not acting then but the evil spirit in anger. I closed my eyes tightly and rested my head back on the seat. I heard some sounds In my head and that made me open them again. The spirit is trying to use me again. I stood up and blocked my ears but the sound increased. Few seconds later, it overpowered me and I was not in control anymore. I looked around the room smiling. It's 6:00pm, All my thoughts were to kill both Stella and Cassandra. I left my room and went for my car in the compound. I got into the car and drove out towards the place I heard Stella was receiving treatments. When I got there, I got down from my car and stood before the building smiling to myself. I used the power of speed and invisibility to enter through the window. I looked around the house and saw three people in the living room. They can't see me because I was in form of evil spirit. I started sniffing to guess the room she was kept. The scent lead me to the room she was kept. When I got there, the door was locked. I went through it and finally I saw her lying unconsciously on the bed with oxygen mask covering her mouth and nose. I smiled to myself and moved closer to her. : Cassandra's POV My blood was taken with a syringe. We all prepare to use that on Stephen but don't know where he would be and how to use it. Suddenly, Jenny closed her eyes. We all kept quiet looking at her. She stood up looking at us. "There's danger. We need to be fast. A spirit is telling me Stella is in danger. And I guess this can be true. Where's Stella? We need to go there now!"Jenny said looking impatient. We all stood up and rushed to the place. When we got there, I knocked on the gate and elle opened it. "Wel…"I didn't let her finish before I banged in and walked down towards their door. The rest followed me. When we got to the living room, mum and dad stood up on seeing the expression on our face. "Mum, dad, did you allow anyone into this house?"I asked them. "No one is here. We are the only one at home. Why did you ask?"dad asked looking at me. I looked at one of the windows and saw that the curtain was opened. "No Stephen. You can't do this"I said almost crying. "Get me the key! The key to special room"I requested looking at dad. "Elle get me the key from my bag"he said facing elle. Before she could go, I rushed there and opened her office bag. I scattered everything there and brought our the key. We quickly rushed to the door and opened it. I was the first to go in. When I got in, I saw Stephen about to stab Stella. "Stop!"I screamed rushing to him.
SHE IS A GHOST Episode 35 When I got to him, I pushed him away from Stella and he staggered back to the wall. "You can't do anything to my sister. You can't!"I screamed looking at him. : John's POV When I saw the situation Cassandra was, I have to stop everything at once. So, I brought out the black powder and the blood in the syringe. I was about opening the sachet when I noticed Stella was acting strange. Her body was fading off and she was becoming translucent as the other time. "Why are you like this again? You can't do this now"I said holding her arms. "I also don't know what's happening to me."she said looking at me. "Hold on. You can't go anywhere now. Everything would be over soon. Please hang on"I said. Her body became so translucent that I could see the other side through her. She was also crying confused at what's about to happen. I heard a loud noise from Sandra's direction and I quickly turned back. Stephen pushed her to some tools and stuffs beside her. She fell to the ground groaning in pain. Mr and Mrs Josh became more scared of the situation. "What's happening here? How does he get in? Who's he?"he asked looking confused. I turned back to look at Stella but she was gone. "No! You can't do that. What will happen to her? Is she gone for good? She can't die. Please you need to come back"I said crying. Jenny was also crying while Mr Josh and his family found it weird because they can't see who am talking to. Stephen tried to get closer to Stella's bed but I stopped him by pushing him away. When I pushed him, the syringe dropped to the ground and he stepped on it. He looked at me and started laughing. He moved closer to me and grabbed me by the neck. I tried to free myself but his power became more stronger. : Sandra's POV When I saw how Stephen tried to hurt john, I managed to stand up. I found out Stephen had stepped on the syringe and the blood has been spilled on the floor. "Let him go now you evil monster!"I screamed at him. "Will you shut your mouth? I thought you were different but you betrayed me. I'll tell you nobody betrayed me and go Scott free"he said applying more pressure to the way he grabbed John's neck. He dropped john and he landed on the floor. He was in pain and not able to stand up. Stephen faced me and moved closer when he was about to get to me, I heard the sound of hitting. Jenny hit his head with a whine bottle. He didn't move but stopped for a while and turned back slowly to look at Jenny. "You can't hurt anyone again. You have to stop here. Everyone saw you're the culprit now so stop everything and surrender yourself to the police"Jenny said panting heavily. "Who the hell are you? How dare you?"he said in a loud voice and hit Jenny with his hand. She flew and landed to the hard wall. She then fell to the ground groaning in pain. I picked the black powder from the floor and opened it. He then turned back to me smiling. "You actually thought you guys can destroy me with that? Why can't you believe what I told you? It can't work on me."he said laughing. I quickly moved to the desk behind me and too a sharp long tool there. I then stabbed my hand with it. "Then I'll do it like this. This would work on you"I said and pour the sachet in my palm then dropped my blood to it. I threw everything at him in anger. He started screaming as his body was burning up in flames. The evil spirit left his body then vanished into the thin air. He looked at me and fell to the ground slowly looking weak. I quickly went to others and helped them up. "He's gone. We did it. He's gone for good"I said helping them up. Few minutes later, the two police men came in while Mr Josh followed them behind. "Here he is. He broke into my house"he said pointing at the weak Stephen. The police took him away to their station. "Where's Stella? Where's she?"john said looking around. We all heard a soft coughing from her bed and everyone looked at her direction. Dr Josh quickly rushed to her bed and checked her up. "She's conscious! She's back to life"he shouted looking at us. We all rushed there and her eyes opened. She stared at us one after the other without moving her body or saying anything. WHO IS READY 4 FINAL EPISODE?
SHE IS A GHOST FINALE EPISODE Mr Josh moved closer to her smiling. "If you can hear me nod your head"he said looking at her. She nodded her head gently looking at him. "Can you see me? Can you see everyone?"I asked looking at her. She nodded her head softly. Mr Josh took his Thesloscope and put it in his ear then placed it on her chest to feel her heartbeat. He removed it and dropped it beside him. The oxygen mask was still on Stella. : John's POV I was staring at her wondering if she could remember me because the Stella I once know was a ghost and now she's gone. Could the real Stella possibly remember me?. I thought to myself looking at her. "You guys will have to come back in the evening or later. I don't think she can talk now"Dr Josh said looking at us. "Oh so bad"Sandra said looking at her. Stella moved her hand to her mouth and removed the oxygen mask slowly."Ca–s-s san–dra?"She said in a low and weak tone. We all looked at her in surprise. We were all surprised she spoke. Sandra moved to her and took her hand. "Thank you for waking up. Thank you so much"she said kissing her hand and smiling. Elle quickly rushed to her bed smiling. "Sis, what of me? Can you recognise me?"she asked looking at her. She nodded her head smiling. "Thank you so much"she said looking at her. "Wow, this is so wonderful!"Dr Josh said staring at her. She looked at Jenny then looked back at me with and unknown expression written all over her face. Cassandra noticed this and smiled. "Do you remember john?"she asked her. She looked at me for long before smiling and nodding her head. That put a smile on my face also because I don't expect her to remember me. "And what of her?"she asked pointing at Jenny. She nodded her head smiling again. Jenny also smiled looking at her. : Stephen's POV When I was taken to the police station, my mum and sister heard about it in no time. So she tried to cover it up by bribing the police for my freedom. But this time, the police never listen to her. I was accused of attempting murderer. : Sandra's POV After everything was solved, my mum was called for and she quickly rushed there in no time. She was so happy and overjoyed. She treated Stella as a new born baby for that moment. Three days later, Stella was using a wheel chair because she can't walk properly. After a week, she was able to work properly. The following week, she began to go out but used to cover her face in case someone might see her. Few days later, the reporter found out about her and our area was full of reporters and newscasters. She later disclosed the secret behind her death to them and it was published out. Dr Josh was compensated urgly by her company for the good work. Stella's fans were so happy about the good news and elle was popular among her friends in school for the closeness between her and Stella. : Stephen's POV The case was taken to court after they found out I was the one that murdered Stella and John's mother. My mum tried to stop it from happening by taken the blame before the court that she did it. She was the one that killed John's mother so I should be release. She started confessing all what happened that day before the court. I was given death penalty for hurting Stella, and for killing John's mother and to crown it all for making Debbie be in that condition and for the countless life I have wasted. My mum can't bare the pain so she fainted. I also cried and started regretting my actions. Dad was in the court listening to all this. His heart was broken because he never knew we did that to his favourite wife. When they were about taking me out, I felt a sharp pain in my heart. My body was aching seriously. It was then I remembered if the evil spirit leave my body, I would die. I finally collapsed on the floor and my eyes were shut. : John's POV After two weeks, I was able to meet Stella because she was too busy throughout these days because of the reporters and the incident that happened three years ago. We made an appointment to meet at a restaurant. When we met, I was so happy to finally see her. She was so different from the ghost Stella I know. She looks amazingly beautiful. When we met, we greeted each other and I ordered for the most expensive meal on the menu. After dinner, I asked her if we could go for a walk before departing. She agreed with me and we left the restaurant. We were walking down beside each other. I have something I have been trying to ask her since and I think now us the chance. I cleared my throat looking at her. "Can I ask you something?"I asked looking at her. "Yes you can"she replied. "How were you able to recognise me? Do you remember been a ghost?"I asked looking at her. She smiled looking at me. "Do ghost esist?"she asked. I was so surprised by the question. If she didn't remember, how can she know me and Jenny?" I thought to myself. "How do you remember us then"I asked her looking curious. "While I was sleeping, I had a wonderful dream about you guys been my saviour. I met you guys in my dream"she replied smiling. "Really? Wow that's not a dream though"I said looking at her. "Thank you for your effort in my dream. I can't thank you enough"she said looking at me. I stopped and faced her. I dipped my hand in my pocket and brought out the wrist chain. "I think it's time to return this to it's rightful owner"I said looking at her. I took her hand and wore it around her wrist. "Oh. You have this."she said looking at me. "You're the guy"she said smiling. I was confused by her action. "You mean?"I asked her. She smiled and hugged me tight. "Thanks for returning this. So much happy to meet you again"she said still hugging me. I was confused for a while. She quickly released me and looked at my face. "Am sorry for that. Good to meet you again."she said smiling. I don't believe she could remember that day also. I smiled looking at her while she also smiled looking happy. We continue walking down the street. I used the chance to hold her hand. She noticed this and smiled looking at me. . THE END…
Sharing is caring
2 thoughts on " she is a ghost episode 31-36 finale ".
Wow Interesting
Like Liked by 1 person
Leave a Reply Cancel reply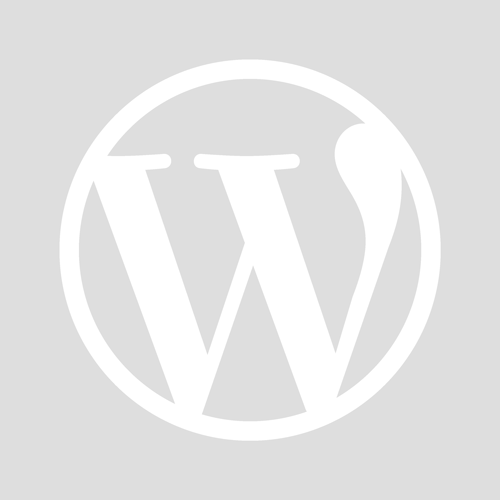 Already have a WordPress.com account? Log in now.
Follow Following
Copy shortlink
Report this content
View post in Reader
Manage subscriptions
Collapse this bar
Forever! Cries of the Heart!
View history
3.1 Guest Cast
3.2 Suit Actors
4 Ghost Eyecons
5 Gamma Eyecons
8 DVD/Blu-ray releases
9 External Links
10 References
Synopsis [ ]
Alain had brought a drawing set for Fumi but her Takoyaki stand is full of people looking worried while an ambulance is seen rushing away. Alain cannot believe what he hears once he asks what happened, his hope fading away yet again...
Yuki has infiltrated Deep Connect and it is none other than CEO Steve Bills who finds her, but offers her his help. Takeru and the others come aftewards and, while not fully trusting Bills, they follow him. Yuki finally reaches where her father is but a terrible truth awaits.
to be added
Takeru Tenkuji ( 天空寺 タケル , Tenkūji Takeru ) : Shun Nishime ( 西銘 駿 , Nishime Shun )
Akari Tsukimura ( 月村 アカリ , Tsukimura Akari ) : Hikaru Ohsawa ( 大沢 ひかる , Ōsawa Hikaru )
Makoto Fukami ( 深海 マコト , Fukami Makoto ) : Ryosuke Yamamoto ( 山本 涼介 , Yamamoto Ryōsuke )
Onari ( 御成 , Onari ) : Takayuki Yanagi ( 柳 喬之 , Yanagi Takayuki )
Alain ( アラン , Aran ) : Hayato Isomura ( 磯村 勇斗 , Isomura Hayato )
Kanon Fukami ( 深海 カノン , Fukami Kanon ) : Mio Kudo ( 工藤 美桜 , Kudo Mio )
Shibuya ( シブヤ , Shibuya ) : Takuya Mizoguchi ( 溝口 琢矢 , Mizoguchi Takuya )
Narita ( ナリタ , Narita ) : Reo Kansyuji ( 勧修寺 玲旺 , Kanshūji Reo )
Adel ( アデル , Adel ) : Akihiro Mayama ( 真山 明大 , Mayama Akihiro )
Igor ( イゴール , Igōru ) : Hiroshi Yamamoto ( 山本 浩司 , Yamamoto Hiroshi )
Alia ( アリア , Alia ) : Reon Kadena ( かでな れおん , Kadena Reon )
Steve Bills ( スティーブ・ビルズ , Sutību Biruzu ) : Thane Camus ( セイン・カミュ , Sein Kamyu )
Fumi Fukushima ( 福嶋 フミ , Fukushima Fumi ) : Hisako Okata ( 大方 斐紗子 , Ōkata Hisako )
Ghost Driver ( ゴーストドライバー , Gōsuto Doraibā , Voice) , Eyecon Driver G ( アイコンドライバーG , Aikon Doraibā Jī , Voice) : m.c.A.T
Mega Ulorder ( メガウルオウダー , Mega Uruoudā , Voice) : Peter von Gomm
Guest Cast [ ]
Yuki Shirai ( 白井 ユキ , Shirai Yuki ) : Arisa Komiya ( 小宮 有紗 , Komiya Arisa )
Kensuke Shirai ( 白井 健介 , Shirai Kensuke ) : Shiro Namiki ( 並樹 史朗 , Namiki Shirō )
Harumi Fukushima ( 福嶋 ハルミ , Fukushima Harūmi ) : Kaya Hioki ( 日置 かや , Hioki Kaya )
Houdini : Tomokazu Seki ( 関 智一 , Seki Tomokazu )
Gammaizer Fire (Voice): Sayaka Ohara ( 大原 さやか , Ōhara Sayaka )
Suit Actors [ ]
Kamen Rider Ghost : Seiji Takaiwa ( 高岩 成二 , Takaiwa Seiji )
Kamen Rider Specter : Jun Watanabe ( 渡辺 淳 , Watanabe Jun )
Kamen Rider Necrom : Eitoku ( 永徳 , Eitoku )
Ghost Eyecons [ ]
Toucon Boost, Ore, Eyecon Driver G
Deep Specter, Specter
Toucon Boost Damashii, Ore Damashii, Grateful Damashii
Deep Specter, Specter Damashii
Necrom Damashii
Gamma Eyecons [ ]
Gamma Superior , Ono
Gamma Superior Perfect, Gamma Superior Ono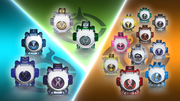 Kamen Rider Ghost's 10 Eyecons, Kamen Rider Specter's 3 Eyecons and Kamen Rider Necrom's 2 Eyecons
Kamen Rider: Ghost , Specter & Necrom
Ghost: Musashi, Edison, Robin, Newton, Beethoven, Billy the Kid, Benkei, Goemon, Ryoma & Himiko
Specter: Tutankhamun, Nobunaga & Houdini
Necrom: Grimm & Sanzo
Takeru's days of life remaining: 54
Eyecons in Ghost's Possession: 10
Eyecons in Specter's Possession: 3
Eyecons in Necrom's Possession: 2
Eyecons connected: 10 (Ryoma, Musashi, Robin, Himiko, Newton, Benkei, Nobunaga, Edison, Goemon, Houdini)
It is also the first time Ghost, Specter and Necrom perform a Triple Rider Kick together.
This is the only time Igor changes from Gamma Superior Perfect to Gamma Superior Ono.
This is the only time Ghost performs the eye symbol in a different form (Grateful Damashii).
This episode reveals that the Gammaizers use the golden Gamma Hole , similar to the ones used by Xibalba , Frey and Freya .
Final appearance of Hisako Okata as Fumi Fukushima .
During the scene of Yuki reunited with her deceased father, she can be seen wearing a yellow coat, referencing to her role as Yoko Usami/Yellow Buster in Tokumei Sentai Go-Busters.
DVD/Blu-ray releases [ ]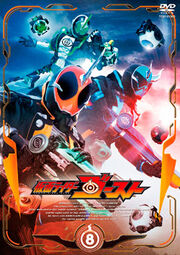 Kamen Rider Ghost Vol. 8, DVD
Kamen Rider Ghost Volume 8 features episodes 29-32: Second Coming! Ordeal of the Escape King! , Forever! Cries of the Heart! , Bizarre! Power of the Gammaizers! and Reminiscence! Secret of the Mind!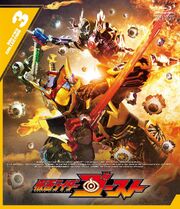 Kamen Rider Ghost Collection 3, Blu-ray
Blu-ray Collection 3 comes with 13 episodes.
External Links [ ]
TV Asahi's official episode guide for 永遠!心の叫び!
Toei TV's official episode guide for 永遠!心の叫び!
References [ ]
1 Kamen Rider Gotchard
2 Super A-Class ☆ Twisted Star
3 Houtarou Ichinose
Try Paramount+
Search shows
TV Provider
Full Episodes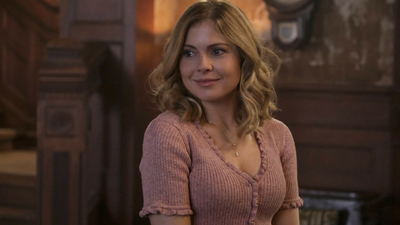 Related Shows