Hidden Phantom
Hidden Phantom , or simply Phantom , is a character in the Mega Man Zero series. Phantom is the leader of the Cutting Shadow Squadron (斬影軍団 Zan'ei Gundan ) with the title of Inshō Phantom ( 「隠将」ファントム , "Inshō" Fantomu , literally "Hidden General Phantom" ) . [1] Phantom's schematics were based on that of X 's capabilities of stealth. Phantom wields giant shuriken, named Dark Cross (闇十文字 Yami Jūmonji ). He is one of Copy X 's Four Guardians .
2 Personality
3.1 Mega Man Zero
3.2 Mega Man Zero 3
3.3 Mega Man Zero 4
3.4 Mega Man ZX series
4 Other appearances
5.1 Attacks
5.2 Armed Phenomenon
6.1 In-Battle Quotes
9 References
Like his siblings, Phantom's armor is based on that of his biological origin, X, with thematic alterations. Phantom's armor is colored black. His design is based on that of a ninja, having ninjutsu skills and making use of shuriken, kunai and katana to attack, as well as using illusions and substitutes to conceal himself. He is thus aptly named for his dark nature and ghostly movements. A white mask covers the upper half of his face, and he wears a red two-tailed cape on his back.
Phantom is the only member of the Four Guardians not to display an Armed Phenomenon form, having sacrificed himself in the first game before such transformations were revealed. Although he doesn't appear in Mega Man Zero 2 , the Mega Man Zero Official Complete Works contains concept art which depicts Phantom's Armed Phenomenon form (which is a bat/wraith like form - see Gallery ).
Personality
Phantom has a calm, quiet demeanor. His major trait is his unwavering allegiance to his " Master X ", displaying more loyalty than his three counterparts (none of whom were willing to sacrifice their lives in order to protect Copy X). Phantom has no mercy for those who oppose Neo Arcadia . His sacrifice may be considered admirable, despite the flawed nature of its cause.
In the Ciel's Memory drama tracks, Hidden Phantom is one of only two of the Four Guardians who is shown to be cautious of confronting the Resistance, or rather, Zero (the only other being Harpuia), even explicitly telling the others not to underestimate Zero, as he's their main enemy instead of the Resistance.
At some point, Phantom and the other three Guardians were cloned from X's DNA for the purpose of restoring the Earth from its polluted and devastated state after Maverick Wars and the Elf Wars . Although Fefnir , Harpuia , and Leviathan were given known purposes, including managing the clean up of the land, restoring atmospheric conditions to proper climates, the restoration of the seas, and to protect the last remnants of humans and Reploids, it is unknown what Phantom was purposed for. Upon X's disappearance, the four became the military generals of Neo Arcadia, responsible for the overall safely of its inhabitants, both humans and Reploids . Phantom became the leader of the Zan'ei Army , Neo Arcadia's stealth units and anti- Resistance intelligence unit.
Mega Man Zero
Phantom's first appearance was to fight against Zero in a factory captured by the Resistance. Zero defeated him, but Phantom turned the tables when he informed Zero that he had planted bombs all over the factory. Zero found them and disposed of them, and later defeated Phantom's closest apprentice, Hanumachine .
When Phantom confronted Zero again in Neo Arcadia's Core, he was again defeated, but this time self-destructed in hopes that his explosion would harm Zero and protect his master. Zero escaped, however, and went on to defeat Copy X . After his death, Phantom's Cyber-elf entered the Cyberspace, where he would encounter Zero in his third adventure.
Mega Man Zero 3
If Zero entered Cyberspace in the Sub Arcadia Level, a secret teleporter accessed by a certain door would appear that would lead him into a confrontation with Phantom. In Cyberspace, the world where all data is sent along with Reploids after death, Phantom learned all truths about the past. He claimed Zero never had the strength within him to be a hero. However, after being defeated by Zero, Phantom realized Zero's power and encouraged him to cross blades with Omega to prove himself once and for all.
After his battle with Zero, Phantom met up with Cyber-elf X, with whom he went to help the two guardians, Fefnir and Leviathan, who were reaching critical state from their battle with Omega earlier on in Mega Man Zero 3 . X helped the two recover, as Zero started his battle with Omega, convincing them, and later Harpuia, to help Zero. Phantom didn't appear to help, due to his status as a Cyber-elf. The other Guardians were gone missing by Omega's explosion, but Zero was protected by the Dark Elf, who shielded him from the blast with her own body.
Mega Man Zero 4
Neither Phantom nor the rest of the Four Guardians appeared in this game. Tech Kraken , however, is a pupil of his, and has joined the Einherjar Eight Warriors for an opportunity to avenge Phantom.
Mega Man ZX series
Phantom reappears in Mega Man ZX as the Biometal Model P . He is still fiercely loyal to X, who became Model X . When used by Vent or Aile , Models P and X combine to become the stealth-oriented Model PX. In Mega Man ZX Advent , Biometal P is used by Siarnaq .
Other appearances
In Mega Man Zero 3 , Phantom has a mini-game where the player needs to jump between shurikens without falling, and avoid spiked balls. If the player misses a shuriken or gets hit, they'll fall from the sky to the ground.
Phantom also appears in the Rockman Zero manga.
Phantom, along with X and the other three Guardians are depicted in an illustration viewing the descent of Ragnarok after Dr. Weil 's defeat in Zero 4 , from the Vile's Incident booklet included with the Remastered Tracks Rockman Zero Physis soundtrack. Interestingly, Phantom and the other Guardians, are shown with updated armors (in their Cyber-elf forms) with capes matching their armor in color, each with an X symbol on the back. In Mega Man Zero Official Complete Works , developers behind the game state that this piece is nothing more than fan art.
Powers and Abilities
As a Reploid clone of the original X, Phantom is an extremely powerful warrior in his own right. Having his design based around X's stealth capabilities, Phantom's fighting style and abilities revolve around various ninja-like arts, such as stealth, deception and misdirection which he combines with a matching set of tools such as smoke bombs, a katana-like blade and a large shuriken which can break apart into several kunai and serve as a flying platform. His EX skill makes the whole background dark and throw 4 kunai in different directions. Together with the fact that he has three health bars arguably makes Phantom one of the most difficult bosses in this game.
Slash (闇駆け Yamigake , "Darkness Dash") - Phantom will dash at Zero and will try and slash him if close.
Clones (朧舞空蝉 Oboromai Utsusemi , "Empty Cicada of Hazy Dance") - Phantom will make four copies of himself for Zero to find. If Zero hits the wrong clone, Phantom will use Habutae (刃二重, "Dual Blade"), sticking a sword into Zero from above. If Zero hits the real, Phantom will use Hagane Hubuki (鋼吹雪, "Steel Blizzard"), throwing shuriken and kunai from above.
Shuriken Ride (螺旋凶車 Rasen Kyōsha , "Spiral Assassin Wheel") - When the ninja star comes back to Phantom, he will ride on the star. Immediately after that, Phantom will use Hagane Shigure (鋼時雨, "Steel Drizzling Rain"), throwing kunai from above, eventually will use Habutae from above.
EX Skill : Oboromai Tsukinashi (朧舞月無, "Moonless Hazy Dance") - The entire background goes black and Phantom becomes completely invisible. Periodically he will fire kunai at Zero's position, and Zero can strike him by attacking the location from which the kunai came, which will not end the effect.
Mega Man Zero 3 EX Skill: Sumizome Kyuuyou (墨染九葉, "Black Dyed Nine Leaves") - During the Cyber-Space rematch in Zero 3, Phantom will disappear and reappear in the air, and throw three Makibishis on the ground that will explode upon contact with Zero. They can be destroyed. Immediately after that, Phantom will use Yomigake (黄泉駆け, "Hades Dash"), like as Slash (Yamigake).
Armed Phenomenon
The only Guardian who never displayed this ability due to his untimely demise, a piece of concept art shows that Phantom is also capable of using the Armed Phenomenon to assume a more powerful form, in his case one of a large wraith/bat-like form. The concept art also shows that he is able to aim and fire the tips of his wings as giant blades and close his wings to assume a large, kunai-like form.
In-Battle Quotes
*This word comes from ninpou "Utsusemi no Jutsu" (空蝉の術, Empty Cicada Technique), similar to "Kawarimi no Jutsu". Moreover, "空蝉" is a variant of "現人", it means "living human in this world" or "this world itself". In addition, another variant is "現身", it means "body existing in this world" or "living body".
Illustration of Phantom.
Some of Phantom's early concept art.
Concept art of Phantom's Armed Phenomenon
Phantom in the manga .
Soundtrack illustration by Hitoshi Ariga .
Even though both  Mega Man X4  and  Mega Man Zero have broken the tradition of defeating a boss at the end of a mission, Phantom still stands out as the only boss in the game that is fought at the very beginning of his stage. This is later carried on with Argoyle and Ugoyle in Mega Man ZX Advent .
Phantom is the only returning boss in Mega Man Zero 3 that is not featured in the storyline. He was fought as a secret boss instead.
A plausible reason why Phantom is named an "evil lord" in his Mega Man Zero 3 Secret Disk is that Zan'ei can be translated as "Cruel Phantom", which is odd because of his nature. It is possible this was a mistranslation overseas.
Surprisingly, out of any of the other Guardian's divisions, members of Phantom's Zan'ei army are fought most often in the Zero series (five of them: Hanumachine , Phoenix Magnion , Burble Hekelot , Hyleg Ourobockle , and Tech Kraken ), while the leader, Phantom himself, appears physically in only two games, compared to the other Guardians, who are in three.
↑ The idiom dictionary of Mega Man Zero Official Complete Works reveals his intended English title to be Hidden Phantom , as does Mega Man Zero Collection .
This page was last edited on 13 February 2021, at 01:09.
Content is available under Creative Commons Attribution-ShareAlike 4.0 International (CC BY-SA 4.0) unless otherwise noted.
Privacy policy
About Mega Man Knowledge Base
Disclaimers
Terms of Use
Donate to Miraheze
Mobile view
Mega Man ZX/Biometal models
Table of Contents
Biometal models
Locate Giro
Pass the Test
Guardian HQ
Search the Plant
Find the Survivors
Secure the Biometal
Save the People
Recover the Disk
Attack the Excavators
Protect the Lab
Stop the Dig
Repel the Army
Destroy Model W

Vent and Aile use the M.E.G.A. System ( Meta-Encapsulated Granule Awareness SYSTEM ), or the R.O.C.K. System ( Rebirth Of Crystallised Knowledge SYSTEM ) in the Japanese version, to activate the Biometals and transform into a form similar to that which the Biometal was based on. Anyone who uses the M.E.G.A. System is called a "Mega Man". Likewise, anyone who uses the R.O.C.K. System is called a "Rockman". Rockmen typically hold out a Biometal in front of them and cry out "R.O.C.K. On!" to activate the Biometal. This process is called Megamerging in the English version, although the characters still say "Rock On" because the game did not get an English vocal dub.
The player initially begins with only Model X, but upon obtaining Model Z, Model X is used to fuse with the other Biometals. This is called Double R.O.C.K. On in the Japanese version, and Double Megamerge in the English version. At this point, Model X can no longer be used alone for the rest of the game until it is unlocked by completing the game with both characters in normal or hard modes only. Biometals of the Four Guardians from the Mega Man Zero series are found throughout the game, and these are the only Biometals that can be upgraded with Energy Crystals. These four Biometals uses the touch screen in various ways. A seventh Biometal is available after completing the game and fulfilling certain requirements.
The Overdrive Invoke System (or O.I.S. ) can be activated on the Biometals of the Four Guardians, giving special abilities to the player. Model HX, FX, and LX will give the player elemental attributes to some of their attacks(similar to the elemental chips from the Mega Man Zero series), while Model PX gives the player the ability to dash through enemies without hurting. By charging their weapons, the four Biometals are also able to perform attacks similar to the Four Guardians. For example, Model HX can summon a hurricane and Model PX can throw a large shuriken. However, O.I.S. consumes Weapon Energy.
Players can also revert back to Humanoid form at any time. Although Vent/Aile cannot attack, dash, or wall-climb without a Biometal, they have some abilities that are impossible to do with a Biometal. Vent/Aile is able to crouch and crawl, fitting through tight spaces otherwise impossible. They will float to the surface of water instead of sink, some NPC characters will be too afraid to speak to Vent/Aile when they are using a Biometal, and enemies will not become hostile in certain areas.
Model X [ edit ]
Model X is known as the "Blue Mega Man." It is the first Biometal obtained, giving Vent/Aile the X-Buster and one ability from the Mega Man X games. The X-Buster can charge up a double shot, similar to the Buster upgrade from Mega Man X2 . Model X is lost early in the game upon receiving Model Z, but can be used again after completing the game as Vent and Aile in Normal or Hard mode. This biometal is based on the legendary Mega Man X.
Model Z [ edit ]
Model Z is known as the "Red Mega Man." It is not used by Vent and Aile, but only by Giro early in the game. Model Z looks very similar to Zero from the Mega Man Zero series, but has a visor in place of a helmet. Model Z has only the Z-Saber for a weapon, and is slightly curved. Vent/Aile later obtains Model Z but combines it with Model X, forming Model ZX. This model is based on the legendary Zero.
Model ZX [ edit ]
Model ZX is known as the "Ultimate Mega Man." The result of combining Model Z and Model X, it looks similar to Zero from the Mega Man Zero games and has a gameplay experience similar to that series, with both a ZX Buster and ZX Saber available to the player. Attacks for Model ZX include the second fully charged Buster Shot from Model X, the Kuuenzan (spin slash), Retsuzan (three slash combo) and Gahazan (charged ZX Saber attack)
Model HX [ edit ]
Model HX is the "Mega Man of Wind." It is a form that resembles Sage Harpuia, with many of his abilities. Vent/Aile are able to air dash both vertically and horizontally, hover, and use Harpuia's double saber "Nitouryuu". The touch screen displays the weak spot in Pseudoroids, the location of the Biometal. It also displays the health of enemies. Model HX has the Thunder element. Attacks for Model HX include a homing electric sphere of energy, a tornado that inflicts consecutive damage and a three hit combo which can be performed by pressing Slice, Slash, Slice. The third strike unleashes a wave of energy
Model FX [ edit ]
Model FX is the "Mega Man of Fire." It is a form with Fighting Fefnir's abilities. Vent/Aile uses two "Knuckle Busters" (Nichou), busters that resemble Fefnir's buster cannons, Sodom and Gommorah. Similar to Fefnir, Vent/Aile is able to shoot directly up. They also have the ability to create shockwaves on the ground, similar to Fefnir's Earthquake attack. The touch screen displays FX's special ability, "Buster Edit." The player can draw on the touch screen a path for which the buster shots from either buster will follow. Upgrading FX will allow the player to draw longer paths. Model FX has the Fire element.
Model LX [ edit ]
Model LX is the "Mega Man of Ice." It has the form of Fairy Leviathan. Using a Halberd for a weapon, Model LX lets Vent/Aile swim and dash freely in water. The touch-screen displays a map of the surrounding area. A Cyber-Elf icon appears on the map to highlight any nearby items. Model LX has the Ice element. Charged attacks for Model LX include an ice platform that can be used to cover vast distances and a homing ice dragon attack (Horyuu). While in water during Swim, the player can spin the Halberd indefinitely by pressing alternatively between the main and sub weapon buttons
Model PX [ edit ]
Model PX is the "Mega Man of Shadow." A form with Phantom's abilities, it uses kunai for weapons. PX can also latch onto ceilings and other objects such as poles and platforms. A radar is displayed on the touch screen, highlighting enemies and showing passageways that may be hidden. Also, while in overdrive mode, dashing will make you momentarily invulnerably to enemy attacks. Model PX is also able to see farther in the dark. Model PX has no elemental attributes. Charged attacks include a large shuriken and a barrier that absorbs weak shots indefinitely.
Model OX [ edit ]
Model OX is a special Biometal that is available after completing certain tasks. Vent/Aile will look like a duplicate of Omega Zero, the final boss of Mega Man Zero 3 . Model OX has many abilities similar to Omega Zero, executed with certain button commands while in Overdrive and it has infinite Weapon Energy. Many of Model OX's special attacks are based on the various attacks Zero used in the Mega Man X series. Model OX is only unlockable in Normal or Hard mode. Model OX has the same charged attacks as ZX, but changes while in Overdrive.
Attacks while in Overdrive with OX Saber include Arc Blade (an ice elemental Kuuenzan that fires small waves of energy in all directions), Ryuuenjin (a rising fire uppercut) and Shinkuujin (a Thunder-elemental wave of energy) Attacks while in Overdrive include Earth Crush (spits up four boulders from where the ground was punched), Messenko (fires 9 bolts of energy from where the ground was punched in a fan-spread fashion) and Rekkoha (summons piercing rays of energy from the sky and ground to fill the screen). Instant Charged Shots also available. You can also charge your buster shot to a higher level, this charged shot stores one extra shot after release in the same fashion to that of Model X's Buster Shot.
Model W [ edit ]
Model W ( Model V in the Japanese version) is the original Biometal, formed from the pieces of the core of the Ragnarok Space Station that Dr. Weil (Dr. Vile in the Japanese version) fused with, which was destroyed at the end of Mega Man Zero 4 ; the Biometal is supposedly a piece of Ragnarok that contains Weil's soul. The original Guardian commander studied these pieces and developed the other 6 Biometals to stop Model W. A small fragment was later found by Serpent 10 years prior to the game, triggering the Maverick outbreaks. It is used only by Serpent at end of the game.
Navigation menu
Mega Man ZX
Franchise »
Mega Man franchise that takes place 200 years after the events of Mega Man X.
Summary short summary describing this franchise..
He is a character from mega man zx advent with an attitude similar to Harpuia.
The Female Protagonist in Mega Man ZX. Has the ability to fuse with different Biometals to take on different forms.
the Female Protagonist of Mega Man ZX Advent. She is a Treasure hunter that gets involved in deeper issues when she meets Model A.
She is a character from the Mega Man ZX Advent series with an aggressive nature similar to Fefnir.
Ciel ("sky" in French) is a 14 year old super genius in the Mega Man Zero series whom built Copy X after the original X disappeared. Ciel awoke Zero to help protect her and defeat Copy X.
Fefnir is one of the Four Guardians of Neo Arcadia in the Mega Man Zero series. His deep love of combat made him the leader of the ground armies Neo Arcadia. Fefnir wields two fire based arm cannons, named Sodom and Gomorrah.
The Male Protagonist of Mega Man ZX Advent. he is a reploid with the ability to combine with Biometal Model A to form Mega Man A.
Harpuia (Kenshou Harpuia) is one of the Four Guardians of Neo Arcadia in the Mega Man Zero series. His main job before becoming the general of the sky forces was cleaning the skies and atmosphere of toxic gases after the wars had ended.
Leviathan (Youshou Leviathan) is one of the Four Guardians of Neo Arcadia in the Mega Man Zero series. Her main job before becoming a general of the sea forces was of cleaning the seas and oceans of toxins after the wars had ended.
Master Albert
One of the Sage Trinity. He is also the Main Antagonist of Mega Man ZX Advent. He bears resemblance to Dr. Wily of the Original Series.
Master Mikhail
One of the Sage Trinity in Mega Man ZX Advent. Bears resemblence to Dr. Cossack from the Original Mega Man Series.
Master Thomas
One of the Sage Trinity. He bears resemblance to Dr. Light from the original Mega Man Series
Mega Man X was created by Dr. Light to help defend the world after he and Mega Man were gone. He awakes 100 years after his creation and must fight a new evil, Sigma.
The "devil" reploid created by Dr Weil from Zero's original body. Wears an armour around it to distinguish itself from the original Zero.
A recurring antagonist in the Mega Man ZX series. She was built by Master Albert alongside Prometheus and Grey.
Phantom is one of the Four Guardians of Neo Arcadia in the Mega Man Zero series. His main job before becoming the leader of the anti-resistance squad was spying and stealth intelligence gathering.
A recurring antagonist in the Mega Man ZX series. He was built by Master Albert alongside Pandora and Grey.
He is a character from mega man zx advent with abilities similar to Phantom.
He is a character from mega man zx advent with abilities similar to Leviathan,but with a more laidback personalitly.
The male protagonist of Mega Man ZX. Has the Ability to Fuse with Biometal to take on different forms.
Mega Man X's mentor and partner who later starred in his own series.
Pick a List
This edit will also create new pages on Giant Bomb for:
Comment and Save
Until you earn 1000 points all your submissions need to be vetted by other Giant Bomb users. This process takes no more than a few hours and we'll send you an email once approved.
Thanks, we're checking your submission.
Use your keyboard!
Log in to comment
PlayStation 3
PlayStation 4
PlayStation 5
Xbox Series
More Systems
Mega Man Zero / ZX Legacy Collection – Cheats
Nintendo switch pc playstation 4 xbox one, mega man zero / zx legacy collection cheats, unlockables, secret stage in z chaser mode, secret wallpaper image, mega man zero cheats, easier way to get jackson gba, easy mode gba, jackson mode gba, skip credits gba, starting a game in hard mode gba, ultimate mode gba, mega man zero 2 cheats, quick chain rod leveling gba, hard mode gba, view image gallery gba, zero's other forms gba, mega man zero 3 cheats, mini-games gba, misc. unlockables gba, unlocking minigames through battle chip gate gba, change enemies in cyberworld gba, fight phantom gba, mega man zero 4 cheats, instant charged shots gba, hard mode available gba, unlock all 7 mini-games gba, unlock ultimate mode gba, mega man zx cheats, arcade mini-games ds, boss plushies ds, keep model x ds, unlock hard mode ds, easter eggs, familiar face under the car ds, get a birthday cake ds, purpose of the doll ds, mega man zx advent cheats, maniac mode (aka expert mode in us) ds, secret ending ds, secret model: model a ds, unlocking new mini-games ds, know something we don't.
You can submit new cheats for this game and help our users gain an edge.
Have We Been Fooled?
You can submit a problem report for any non-working or fake code in the lists above.
Mega Man ZX bosses
Z-Chaser Bosses
Eight Gentle Judges
Optional bosses
Insect design
Null bosses
Antagonists
Brainwashed
Deathtanz Mantisk
Deathtanz Mantisk ( デスタンツ・マンティスク , Desutantsu Mantisuku ) is a boss in Mega Man Zero 3 . He is a Mutos Reploid based on a praying mantis and the Grim Reaper , and was once the Moonlight Judge ( 月光審官 , Gekkō Shinkan ) [2] [3] of the Eight Gentle Judges .
1 Characteristics
3.1 Attacks
5.1.1 Old Residential Area
5.1.2 Weil's Research Laboratory
5.2 In-battle Quotes
6 Other appearances
7.1 Artwork
7.2 Sprites
8 Etymology
10 References
Characteristics [ ]
Deathtanz Mantisk is a tall and lithe Reploid in his Judge form, wearing a white cape and a spiked white crown. His Punishment form is a lanky green Reploid resembling a praying mantis, possessing two wings at his waist and gigantic Grim Reaper scythes in place of hands. Like a real mantis, he has eyes in the center of his head, and has two giant gems on either side resembling a mantis's larger compound eyes.
Deathtanz Mantisk was once an eccentric yet level-headed judge who was very selective of the Mavericks he executed, wishing not to spill unnecessary blood. However, after being inducted into the Weil Numbers, he cares for nothing besides killing and loyally serving his new master. He has a habit of using the Japanese onomatopoeia , "chikachika" (ギチギチ, "gichigichi" in Japan) when irritated. Mantisk, at least in his modified form, had a fear of dying, as evidenced by his last words to Zero after losing their rematch.
02 October 2018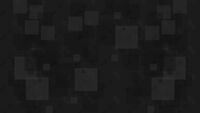 06 April 2010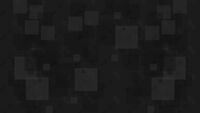 07 October 2008
History [ ]
Deathtanz Mantisk was formerly the Vice Chief Judge of the Eight Gentle Judges, and served as the Moonlight Judge in charge of executing sentenced Mavericks. Mantisk didn't like to take an unnecessary life, and prided the dullness of his scythes as proof of peace. However, when Dr. Weil returned, he brainwashed and remodeled Mantisk as one of his personal enforcers in the Weil Numbers. His scythes were refurbished, becoming durable and sharpened at the atomic level. [4]
Mantisk was deployed to the Old Residential to capture Crea and Prea , who had gone missing since Elpizo 's defeat. He sealed them in a room while he fought Zero , but was defeated. Even so, Dr. Weil appeared in person to successfully recover Crea and Prea.
Mantisk is resurrected for a rematch in Weil's Research Laboratory . There he is defeated by Zero again, furious at losing to an outdated Reploid and fearful of returning to death.
Strategy [ ]
Deathtanz Mantisk mainly attacks with his scythes either throwing them as boomerangs, slashing from above, doing a quick stab, or throwing them across the floor, up the wall and then back to him. If the player has A or S rank, he will use his EX Skill Rock Breaker. One strategy to defeat him is to equip a normal body chip and attack him with a charged Recoil Rod , which can stun him to interrupt his attacks. The Burst Shot  EX Skill may also be a good idea, as it can deplete an moderate amount of health from him, although the aforementioned strategy may be better.
Defeating him will give Zero the Light Body Chip , and if the player is at A or S rank, the 1000 Slash EX Skill .
Attacks [ ]
Area: Old Residential Area Mission: Find Dark Elf Zero's EX skill: 1000 Slash
Dialogue [ ]
Old residential area [ ].
Crea: Who are you? You smell like Mama. Prea: Who are you? You smell like us. Deathtanz Mantisk: Chikachika... So these are Baby Elves? Lord Weil ordered me to find them... They really are just little elves. Are they useful? Zero: Hand over the Baby Elves. Crea: Oh, I know him! He pushed Mama around! Prea: I know him, too! That's the guy who pushed Mama around a century ago! Crea: You faker! Prea: You faker! Zero: Hmm? Deathtanz Mantisk: Chikachika... Shut up, you Baby Elves! If you don't wanna get chopped up, go into that room! Crea: Waaaaaah! Prea: Waaaaaah! Deathtanz Mantisk: Those two belong to Lord Weil. You can't have them. I'm Deathtanz Mantisk, one of Weil's Numbers. Now, time to slice you into ribbons!
Deathtanz Mantisk: Chikachika... Even if you defeat me here... My associates will cut the old chains that bind the world. And build... A new order... Lord Weeeeiiiil!!!
Deathtanz Mantisk: I can cut anything with my beautiful scythe! Chikachikachika!
Weil's Research Laboratory [ ]
Deathtanz Mantisk: What's the use of century-old junk in this new world? I'll cut you down and send you off to the deadlands! Chikachikachika!
Deathtanz Mantisk: How could I, the newest and greatest, lose to a century-old piece of junk?! Impossible... No, I don't want to die. I don't want to die! Chikachikaaaaa!!
Deathtanz Mantisk: Chika! Chikachika! Watch as I slice your old world and all your friends to ribbons! Chikaka!
In-battle Quotes [ ]
Other appearances [ ].
An image of Deathtanz Mantisk appears in Mega Man Zero 4 in Dr. Weil's Enemy Inferno attack, using Razor Arm against Zero.
Mantisk appears in Mega Man ZX as a secret boss in Area N , in a door that only opens if a Mega Man Zero 3 cartridge is inserted in the Nintendo DS or by activating the Zero 3 link in the Mega Man Zero/ZX Legacy Collection release.
Gallery [ ]
Artwork [ ].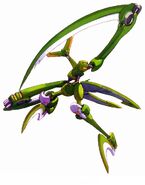 Sprites [ ]
Etymology [ ].
Deathtanz Mantisk's first name is a portmanteau of "death" and "tanz", the German word for "dance". His last name comes from the mantis, an insect from which his design is inspired.
"Chikachika" ( ちかちか , "Chikachika" ) is a onomatopoeic term commonly used in Japanese comics and graphic novels to describe or indicate the twitching/flickering of ones eyes. Apparently Mantisk has made a habit of saying this every time something annoys him enough to make his eye twitch. [5] Moreover, "gichigichi" is Japanese onomatopoeia of grinding sound. Mantisk probably grind his teeth and scythes.
Mantisk was misnamed as "Deastants Mantisk" in the English and European instruction manuals of Mega Man Zero 3 .
Mantisk bears a resemblance to Kamaruta, an evil mech in the anime The Brave Of Gold Goldran . Both are lanky green machines themed after mantises, with detachable scythe blades on their arms.
References [ ]
↑ Mega Man Zero Official Complete Works page 75.
↑ Remastered Tracks Rockman Zero Telos official page
↑ Rockman Magazine Vol. 06 - page 7
↑ Gpara.com: Koutetsu Mecha Base - Part 132 (2004.3.26) (archive)
↑ DAILY YOMIURI ONLINE - Pera Pera Penguin's: 5-minute Japanese Class by Hitomi Hirayama, Vol. 94
1 Robot Master