Awards Season
Big Stories
Pop Culture
Video Games
Celebrities
Celebrating the "Brenaissance" With a Look Back at the 1992 Caveman Comedy "Encino Man"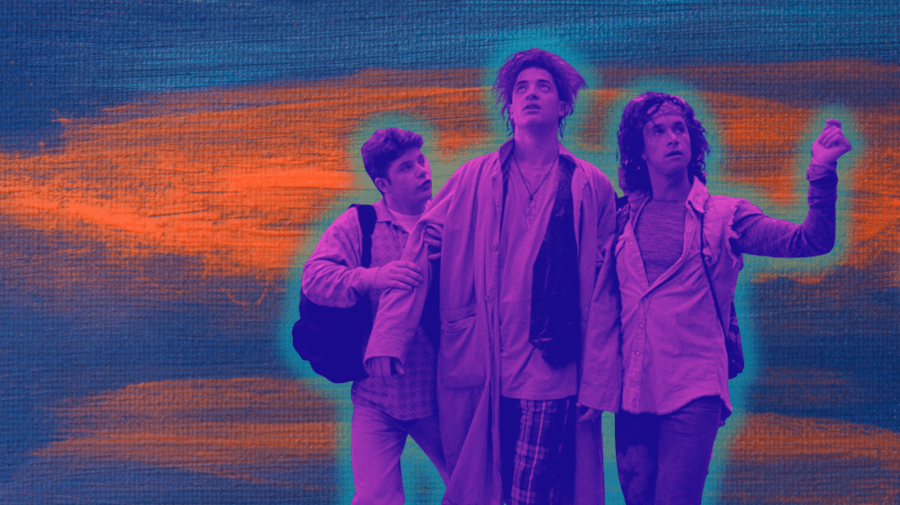 Movies are artifacts. Though they've only existed for around 125 years , the technology of motion pictures allows us to capture something about our times as we're living them. That's probably why movies are such a site of nostalgia — they give us a chance to time travel a little. Through the movies, we get to remember what it was like way back when.
That whole concept gets a little more wild when a movie involves a little bit of time-warping as part of its plot. Enter Encino Man , Les Mayfield's 1992 high school caveman comedy starring Sean Astin and — in their first, real starring roles — Brendan Fraser and Pauly Shore. Encino Man has the unique distinction of being about finding an artifact from a previous time while also now, after 30 years, being a kind of artifact of a previous time.
Since we're in the middle of a bit of a " Brenaissance " leading up to Fraser's major role in Martin Scorsese's upcoming drama Killers of the Flower Moon , let's take a look back at Encino Man , a silly, ridiculous and incredibly dated movie that's somehow still beloved even as it turns 30 (going on 30,000).
What's Encino Man About?
At first, Encino Man is a pretty typical high school comedy. It's the story of Dave (Sean Astin), a high school nerd in his senior year who's obsessed with becoming popular before he graduates. His plan involves trying to build — by himself — a swimming pool in his backyard in Encino, California. But then things take a turn. In the process of digging, Dave and his best friend Stoney (Pauly Shore) discover a prehistoric man encased in ice (Brendan Fraser).
Roll your eyes all you'd like, but Dave and Stoney haul the frozen man out of the ground and into Dave's garage where the unearthed man thaws and — miraculously and predictably — wakes up. After getting the bewildered fellow cleaned up, Dave convinces his folks that his new friend is an exchange student from Estonia named Linkavitch Chomofsky ("Link" for short). Hijinks ensue, and I won't spoil all the jokes, but suffice to say that the three guys teach each other a lot about life over the next hour or so.
Mostly, it's a movie about being yourself. Dave is so obsessed with being popular that he ends up trying to use Link for his own gains. Link, of course, is the one who becomes popular — entirely incapable of artifice, he has no choice but to be himself, and, as a result, everyone loves him. Stoney is the beating heart of the movie, constantly reminding Dave of the importance of friendship, and that friends don't use each other the way Dave is trying to use Link.
Everything comes to a head when Robyn (Megan Ward) — with whom Dave has been in love since childhood — decides she wants to go to the prom with Link, specifically because she wants to go with someone who's cool being himself. Don't worry though: things work out. Lessons get learned, everyone ends up back at Dave's for a pool party; it's all good.
What's Actually Good About Encino Man ?
Okay, listen, I can't fully vouch for this movie beyond its being a fun, nostalgic cultural experience. Part of existing as a kind of artifact from the past is that the movie feels pretty dated. Like many '90s comedies, Encino Man contains language and attempts at humor that shouldn't have been funny then and really aren't funny now.
Still, there's a charming little core at the center of this movie. One of the unique things about it is that the main character isn't a good guy. Sean Astin's Dave is a jerk who only thinks about himself, and the movie finds itself veering away toward Link, Stoney, and Robyn as Dave slowly spirals into the nightmare of his own self-regard. It's sort of weird to admit this, maybe, but as someone who was a kid in 1992, I actually remember learning from this movie that I shouldn't try so hard to be popular. I remember watching this and thinking that it's actually cool to be yourself.
The other things this movie has going for it are its two star-making performances. First: Pauly Shore. It's a little hard to understand this now, but Pauly Shore was a box office star for a couple of years there in the early '90s. Encino Man , Son in Law (1993) and In the Army Now (1994) were hits, and Bio-Dome (1996) remains another kind of cult-favorite (a la Encino Man ) to this day. Pauly only had one move though, and his stoner-doofus-with-a-heart-of-gold act definitely isn't for everyone.
Brendan Fraser, on the other hand, should get more credit for Encino Man . This was his first movie, and he was incredible in it even though he barely even had the chance to speak any words! He's just doing some seriously emotive work with his face, reacting with wide-eyed wonder to the world around him, and being generally charming at all times. He was somehow both incredibly handsome and incredibly funny looking. The degree of difficulty involved with making Encino Man anything beyond totally stupid was really high, and Fraser knocked it out of the park.
The "Brenaissance"
Fraser cranked out a bunch of movies over the rest of the '90s, some of them really awesome. Airheads (1994) and Blast from the Past (1999), in particular, give Fraser a chance to be really funny and charming in ways that recall his role in Encino Man . Sadly, most of his movies were box office failures. George of the Jungle (1997) and The Mummy (1999) were huge hits, but were widely panned by critics ( though The Mummy has a cult following now ). Basically, Brendan Fraser the gigantic movie star never really happened.
On the other hand, many of his box office failures somehow managed to remain beloved. I think it all goes back to something he captures at the very beginning of his career in Encino Man . There's an effortless kindness to his screen presence. You watch, and you just kind of like being with him, even if the material he's working with often falls short. Considering that, it probably shouldn't be surprising that he's having a bit of a moment right now.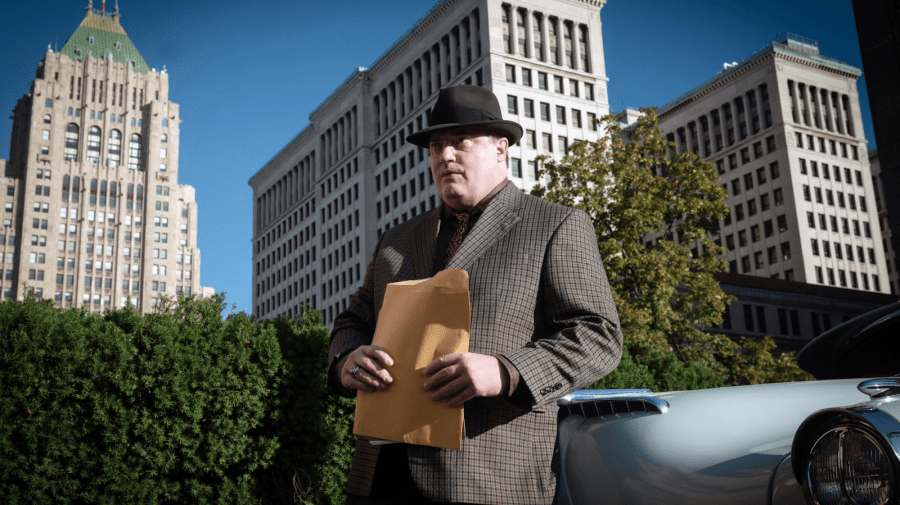 After attention-drawing roles in the FX series Trust in 2018 and the first three seasons of DC Comics' Doom Patrol , Fraser had a role as a kind of terrifying heavy in Steven Soderbergh's 2021 crime film No Sudden Move . He's following that up with some truly wild and exciting roles. He's starring as the DC villain Firefly in the upcoming Batgirl . He's already completed filming on two other major roles — the aforementioned Killers of the Flower Moon and Darren Aronofsky's upcoming drama The Whale , in which Fraser will play a 600-pound man named Charlie who tries to reconnect with his estranged teenage daughter.
Maybe it's nostalgia getting the better of me, but I'm truly excited to have the screen presence of Brendan Fraser back in my life. He's a unique actor, and it's fun to imagine the creative work that could come out of this so-called "Brenaissance." Hey, maybe we'll even get an Encino Man sequel at some point . I know I'll be ready for it.
MORE FROM ASK.COM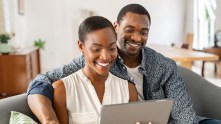 Breaking News
University Guide
Meghan Markle
Prince Harry
King Charles III
Caught on camera: Is this eerie caveman image Britain's oldest ghost?
By Daily Mail Reporter Updated: 07:16 EDT, 18 June 2009
View comments
Britain's oldest ghost appears to have been caught on camera at the country's most ancient inhabited site.
The 'spook' was snapped in a prehistoric cave at Kent's Cavern in Torquay, Devon, looming from a wall and surrounded by an eerie mist.  
In the image, taken by a tourist, the ghostly face of the caveman seems to hover in mid air staring in to the distance.
Spooky: This amazing image of a ghostly apparition was caught on camera by tourist Simon Howard at Kent's Cavern in Torquay, Devon
For almost 200 years archaeologists have been digging up the prehistoric caves hoping to unearth evidence of our ancestors.
They've found lots of bones of all sorts of animals - as well as a human jawbone dated at around 40,000 years old which was when Neanderthal Man became extinct.
Now, it seems, there could be fresh evidence of the early inhabitants of the caves - but no excavations were needed for this new 'find.' 
Simon Howard took the photos during a visit to the caves, one of which he says shows the outline of a face in the rocks, and a strange mist which wasn't there when the picture was taken.
Archaeologists have been digging up the prehistoric caves hoping to unearth evidence of our ancestors for almost two hundred years
The scene outside Kent's Cavern which is recognised as the most important stone age cave in Britain 
"We were on a tour round the caves and I happened to snap a picture inside the Bear's Den chamber while waiting for the other members of the tour to arrive.  
"Later on when I took a look at the photo I saw this mist which was not visible at the time. 
"I won't say what I think I can see in the picture - I'll let people decide for themselves." 
Kent's Cavern worker James Hull says it's not the first time a ghostly sighting has occurred: "There have been some strange and unexplained happenings in the caves down the years, as I've personally experienced on some of the paranormal investigation nights we have held here," he said.
"But this is the first photograph taken that we're aware of which shows what looks like a ghost.
"Everyone who has seen the photo here at the caves can see the profile of the face of a man with a large eye, long nose, small mouth and a beard, wearing what appears to be a helmet with a nose-guard, shrouded in mist." 
Kent's Cavern is recognised as the most important stone age cave in Britain and has revealed more about palaeolithic Britain than anywhere else. 
Implements found there include some that date back almost half a million years and many flints associated with the Neathderthals, while a human jawbone uncovered in 1927 is 31,000 years old, providing the oldest evidence of modern man (Homo sapiens ) in northwest Europe
Share or comment on this article:
Most watched news videos.
Moment German Chancellor Scholz's team duck for cover in Tel Aviv
Missile hits al-Ahli Hospital in Gaza City killing at least 500
Storm Babet hits the UK with huge waves crashing into the coast
Moment two whales breach just feet from paddleboarder in California
Cops inspect burnt vehicle after Brit newlywed and wife gunned down
Ten-year-old girl begs neighbours to rescue her as Hamas shoots mum
Quentin Tarantino poses for a photo at an Israeli military base
Hamas terrorist body cameras show savagery of their attacks
BBC's Doucet flees live broadcast during suspected rocket attack
Smiley Noya Dan sings with her mum just one month before tragic death
Inside burnt remains of autistic girl's home torched by Hamas
Footage appears to show rocket fired from Gaza malfunctioned mid-air
Femail Today
Follow DailyMail
Subscribe Daily Mail
Follow @dailymail
Follow MailOnline
Follow Daily Mail
From the Makers of Candy Crush

Published by Associated Newspapers Ltd
Part of the Daily Mail, The Mail on Sunday & Metro Media Group

"Bum and chips." ― Robin to the other ghosts [src]
Robin , real name Rogh , [2] is a caveman and the oldest ghost at Button House . He is portrayed by Laurence Rickard , who also plays Humphrey's Head .
1 Biography
2 Appearance
3 Personality
Biography [ ]
Robin is by far the oldest ghost at Button House, having died thousands of years ago. One day Robin and two of his friends were out hunting when they were attacked by a bear. His two friends were killed but Robin escaped and climbed a tree to hide from the bear. However, soon a storm came and Robin was struck by lightning. He has the power to control light as a ghost, which could have come from his cause of death.
He is the oldest ghost and has haunted Button House before it existed. He haunted the land at first, and the village it became, and some of the villagers who died of the plague joined him as ghosts. They would have watched the construction of Button House, but the plague ghosts went to live in the basement of the house once it was finished, as the basement was in the remains of the plague pit their corpses were buried in. The caveman has also claimed that the land was his first.
Over his time haunting the grounds Robin has observed people and managed to learn English, while not perfect he is completely understandable and often makes puns much to the chagrin of his fellow dead. He is mentioned to have sired children with his sister, suggesting he is an ancestor to the owners of Button House (and probably to all modern humans); [3] he sired at least thirty children. [4]
Given that Barclay Beg-Chetwynde claims that a "half-man, half-ape" creature haunts the grounds of Button House, [5] it is possible that Robin has been seen by a living person other than Alison Cooper at some point in his long existence, though how and by whom has yet to be explored.
Appearance [ ]
Robin looks like a stereotypical Stone Age caveman. His hair is wild and his beard is equally untamed, his forehead protrudes and he is filthy. Robin is dressed in an array of skins and furs, some of which have been bound to his feet and calves as shoes.
Personality [ ]
While the other ghosts are mostly stuck in their ways, and by extension their eras, Robin is quite the opposite. He has watched human life for longer than everybody else combined has been alive, so he has learnt and essentially evolved from grunts and hunting to have a detailed personality with his own unique traits. Robin is one of the kindest, caring and most considerate ghosts to haunt Button House; he's second only to Pat . Robin's also - despite his appearance and inability to speak in grammatically correct sentences - one of the more intelligent and quick thinking spirits.
Having seen almost everything in his time Robin has remained remarkably level-headed and often comes up with the best, most logical solution to a problem the others have exacerbated. He seems to be pretty good in a crisis and excels in thinking outside of the box while remaining rational. Although, Robin has been known to become childish and grumpy when disappointed. He has a deep love of chess which he regularly plays with Julian and has become somewhat of an expert on the game. After Alison moves in he further adds to his list of fun activities by filling in the newspaper crosswords.
In the beginning, Robin's favourite thing to do to Alison was to hide in every dark corner he could find, then jump out at her and scream 'boo'. Originally he started as part of The Captain 's plot to scare Mike and Alison out however kept on doing it even afterwards just for his own amusement.
In episode five , Robin is obsessed with completing the Moonah Ston Ritual , which he conducts every lunar eclipse. He loves the moon, because it has always been there, through everything changing.
He has developed some form of attachment to Mary which almost turned romantic in About Last Night but untimely they both avoided the subject and left it with 'we cool'.
Robin has a special ability that allows him to cause lights to flicker and turn off, and with concentration he can also cause them to burn out. He has also been shown using his ghostly form as a sort of conduit to attract lightning, though this takes immense effort.
He seems to also have the ability to call nearby dogs by howling.
"Pushy or no pushy?" (Who Do You Think You Are?)
"Oh! Argh! Eeh! Uh- box- move- go uh wheel- Auurgh- CAR!" (Who Do You Think You Are?)
"Not just a pretty face." (Who Do You Think You Are?)
"Never bored with chess board!" (Free Pass)
"Me speak good." (Moonah Ston)
"No moonah ston, no help lady." (Moonah Ston)
"Before you, was moonah. Before house, was moonah. Everything come, everything go... but always there... moonah." (Moonah Ston)
"Michelle driving car, Nathaniel look nice in next chair uh eeh ah … and then they do it. I'd buy that." (Getting Out)
"Ticket!" (The Grey Lady)
"Let it all out, I always feel better after a little cry." (About Last Night)
"Monopoly is a trap." (Perfect Day)
↑ This is the time between the arrival of first early humans in Britain and the end of the Neolithic era.
↑ " Speak as ye choose "
↑ This is not as bold a claim as it sounds; the most recent common ancestor of all modern humans most likely lived no more than 3,000 years ago, and there is a point further back, thought to be around 10-15,000 years ago, beyond which every individual is either a common ancestor to all humans, or has no living descendants at all.
↑ Perfect Day Kitty: Thirty? Robin: Or at least. Lost count. Julian: Busy bunny, eh? Thomas: This is not love you speak of! Tis but the carnality of a beast!
↑ Moonah Ston
1 The Captain
Why Don't We Ever See The Ghosts Of Cavemen, Neanderthals & Other Early Hominids?
This article is more than four years old.
Related Content
How Hauntings Could Be Nothing More Than Subconscious Projections
Learn About Ghosts Like Never Before As Ghostly Episode Of Classic Comedy Returns To iPlayer
Can Ghosts Speak Through Alexa?
Woman Divorces A Victorian Ghost Less Than A Year After Tying The Knot
The UK's Haunted Road Hotspots Have Been Revealed Through New Data Analysis
Haunted Pet Shop Claims Deceased Pets' Ghosts Are Roaming the Aisles
10 Most Haunted Rivers & Waterways In The UK
'The Naked Experiment' Is A Revealing New Paranormal Documentary
The Quest For A Consistent Theory Of Ghosts
Does AI Know As Much About The Paranormal As A Human Researcher?
Behind The Scenes Of Higgypop: An Interview With Steve Higgins
I Tried To Force An AI Chat Bot To Admit That Ghosts COULD Exist
Daily horoscopes.
Mysteries of life such as love, lust, birth and rebirth will be taking your attention into the spiritual realm right now. You could find yourself dramatically changing your spiritual or religious beliefs as a result of insights you gain through... Read More
Featured Content
The 'Spooked Ireland' Team Attempt To Smoke Out The Ghosts Of Aughrim
Chris Fleming Says His 'Mind Was Blown' By Activity While Filming 'Spooked Ireland'
'Hauntings: A Book Of Ghosts & Where To Find Them' - Neil Oliver's Paranormal Tour of Britain
'My Ghost Hunting Movie' Takes Home Six Gold Awards At The Fortean Film Festival
You may also like.
'Spooked Ireland' Team Play Spectral Game Of 'Guess Who?' To Reveal Spirit's Face
Danny Robins Reveals How He's Adapting 'Uncanny' For Television
Danny Robins Reveals Premiere Date For 'Uncanny' TV Spin-Off Series, Just in Time for Halloween
Sharon Osbourne Rushed To Hospital After 'Night Of Terror' With Son Jack
Paranormal Guess The Year Quiz
Leading Ladies Of The Paranormal Quiz
The 'Ghosts' Are Back On The Beeb This October
Zak Bagans & Team Return With 'Ghost Adventures: Devil Island' Special This October
Spotify is currently not available in your country.
Follow us online to find out when we launch., spotify gives you instant access to millions of songs – from old favorites to the latest hits. just hit play to stream anything you like..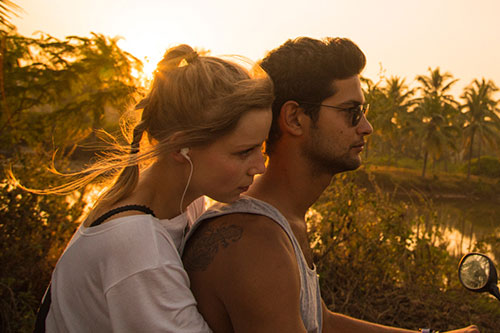 Listen everywhere
Spotify works on your computer, mobile, tablet and TV.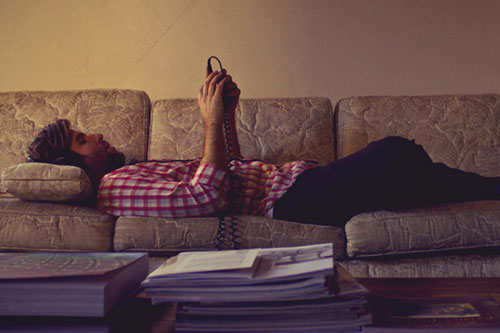 Unlimited, ad-free music
No ads. No interruptions. Just music.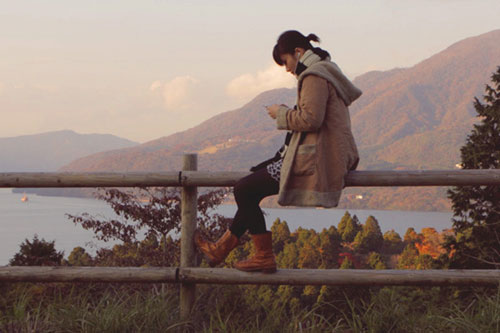 Download music & listen offline
Keep playing, even when you don't have a connection.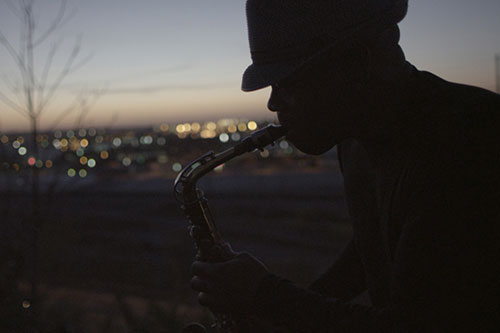 Premium sounds better
Get ready for incredible sound quality.
Caveman instincts may explain our belief in gods and ghosts
Senior Lecturer, University of Strathclyde
Disclosure statement
Steve Kelly does not work for, consult, own shares in or receive funding from any company or organisation that would benefit from this article, and has disclosed no relevant affiliations beyond their academic appointment.
University of Strathclyde provides funding as a member of The Conversation UK.
View all partners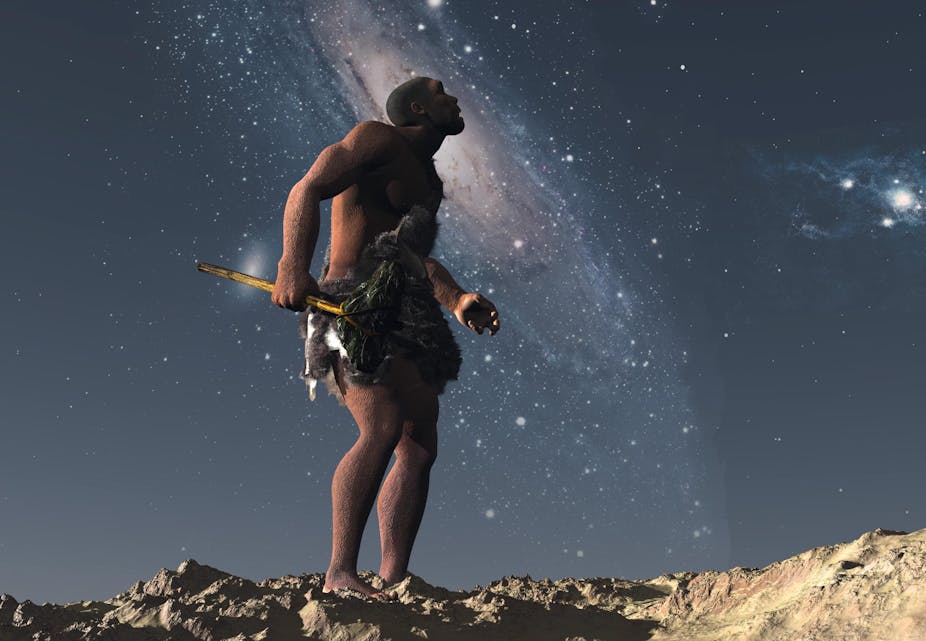 Notions of gods arise in all human societies, from all powerful and all-knowing deities to simple forest spirits. A recent method of examining religious thought and behaviour links their ubiquity and the similarity of our beliefs to the ways in which human mental processes were adapted for survival in prehistoric times.
It rests on a couple of observations about human psychology . First, when an event happens, we tend to assume that a living thing caused it. In other words, we assume agency behind that event. If you think of the sorts of events that might have happened in prehistoric times, it's easy to see why a bias towards agency would be useful. A rustling of a bush or the snapping of a twig could be due to wind. But far better to assume it's a lion and run away.
The survivors who had this tendency to more readily ascribe agency to an event passed their genes down the generations, increasingly hard-wiring this way of making snap decisions into the brain. This is not something that people need to learn. It occurs quickly and automatically.
Empathic tendencies
The second trait is about how we view others. While living together in a tribe would have had many advantages for survival in prehistoric times, getting along with everyone would not always have been easy. Comprehending others' behaviour requires you to understand their thoughts and beliefs, especially where these may be incorrect due to someone not knowing the full facts of a situation.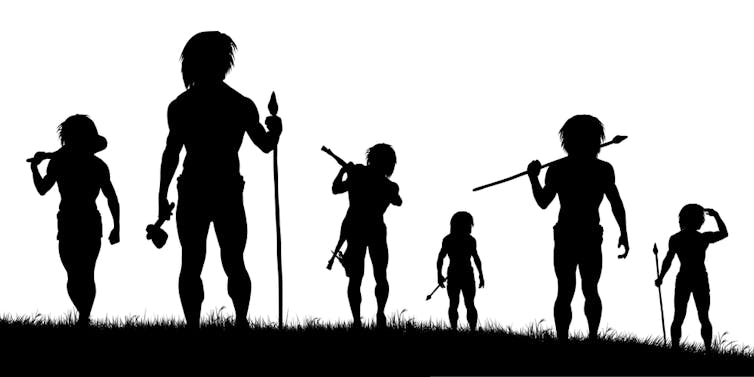 This is known as "theory of mind". This idea says that we automatically assume that there are reasons behind others' behaviour which we try to work out in order to better understand why they behave the way they do. Not having this ability has been proposed to underlie developmental disorders such as autism.
You may be wondering what these two hard-wired processes have to do with belief in gods. Imagine a pebble falling in the back of a cave. Our agency device tells us that someone caused that to happen. With nothing in evidence, could it be an invisible creature or a spirit? If so, why would it be sneaking around? To find out secrets about us or to discover if we are good or bad people?
Another example might be a volcanic eruption. In the absence of geological knowledge, our tribal ancestors' agency system would have ascribed this event to a person – but one that surely has superhuman ability. And why would they want to cause such destruction? Perhaps the eruption signified a punishment, perhaps because the tribe had not acted in accordance with the being's wishes.
Of ghosts and gods
These two very simplistic examples should help illustrate how these hard-wired mechanisms could lead to the beginnings of a belief in gods, as well as ghosts and other supernatural creatures. Our ancestors would have drawn conclusions about supernatural occurrences by fitting together these instincts towards agency and the theory of mind.
This even applies to the Abrahamic, all-knowing, all powerful god. He may seem very inhuman at first glance, but it has been shown that we reason about Him in a very human way. For example we depict Him helping one person before moving to the other side of the world to help someone else. Hard-wired reasoning processes helps explain how religious ideas are so durable, spreading across continents and down through generations.
Both these and other ancient instincts appear to be in evidence from observations of children. Very young children seem to show very accurate understanding of physical laws. For example they know that two solid objects cannot merge into one or that horses do not have metal gears inside them. Developmental psychologists have suggested that children are intuitive biologists, physicists and – using theory of mind – psychologists.
Sumus rosaceae!
Concepts which violate these intuitive understandings seem to be more memorable than others. A rose that whispers in Latin violates an intuitive understanding that plants do not have minds or mouths and therefore cannot whisper in an ancient language – or any language for that matter.
It may be that violating an intuitive concept draws special attention and interest and therefore helps embed the idea in memory. Many religious stories contain concepts that seem to violate this special kind of intuition, such as a man walking on water or a burning bush that talks. These tales take advantage of this feature of memory to successfully propagate themselves and resist being forgotten.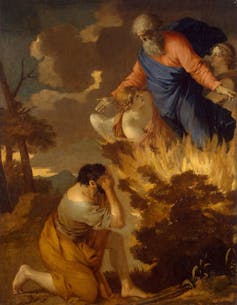 Putting these ideas together is one way of explaining religious thought and behaviour. You could go further and suggest that, if these ideas are correct, religion is merely a by-product of mental processes operating in error.
But this assumes that religious/supernatural experiences are not true. If the human mind was to truly experience a god, then the theories of agency and mind and our memory for the counterintuitive would help us make sense of it. If that were to happen, the conclusions would not be in error at all.
Dr Kelly will be elaborating on these ideas at a lecture in Glasgow on the evening of Thursday May 22.
prehistoric times
belief in god
Belief in ghosts
Hunter gatherer
Industrial Organiser
Workplace Learning Co-ordinator/Lecturer in Social Work
Digital Producer, ABP / FEIT
Associate Dean (Research), Faculty of Engineering
Partner Relations Manager